More than Just a Game: The Super Bowl Experience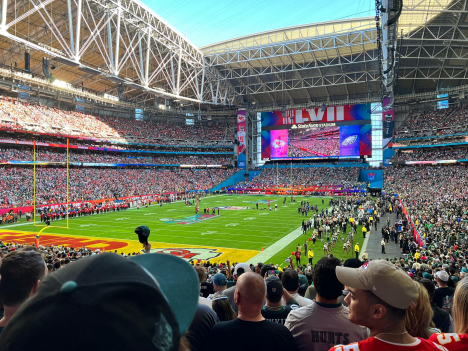 Phoenix, Arizona's State Farm Stadium hosted the Philadelphia Eagles and the Kansas City Chiefs for the 2023 Super Bowl. Football fans from all over the world came to experience not just the game, but the culture and in-depth encounters with other fans that make the big game all the more exciting.
In the days before the Super Bowl, bars in the Phoenix area served as rally points for fan bases, where the camaraderie and passion for their respective teams were intense. In an interview at the Four Peaks Brewery in Tempe, Arizona, Eagles legend Brian Dawkins spoke on what playing for a Philadelphia audience was like. 
He said, "The home game is going to be a lot more electric, a lot more piercing in their voice, their energy. Anytime we traveled anywhere, usually Philly traveled with us, so we can expect for them to be loud at any stadium that we go to." 
On the day of the Super Bowl, fans were waiting outside the venue as early as 8:00 a.m., with high energy and spirits even spanning out to the stadium's parking lot. From tailgating to singing fight songs, the Philadelphia fan base seemed to have an overwhelming presence amongst the crowd.
Eagles fan Jason Cruz said it was important that he was "at the actual game and not watching on TV" and spoke on what it means to be supporting your home team at the Super Bowl.
"You feel like you're with your family members, you all bleed the same way green, black, white, victory, fly fly eagles fly," Cruz said. "I just love it, I think we're dominating in the way we act." 
Similar to the Eagles culture, Kansas City Chiefs fan Jeffery Blowgriff also likened the Chiefs fan base to a family and identified with Eagles fans in his passion for his team. 
He said, "Being here with everybody it's like the same thing with Eagles fans, it's a family. Everybody is wearing the same color, we are all friends, even the green, it doesn't matter. I met some awesome Eagles fans who were super friendly."
After the doors had opened at 12:30 p.m., the crowds of fans flooded into the stadium, bringing the intensity. The empty seats of the open-dome stadium were soon packed with spectators wearing either red or green, and the days of rallying would soon be at its climax with the kickoff. 
With the Super Bowl concluding in a Kansas City victory, some would say that the experience was poor or unrewarding for Eagles fans. Despite the outcome, the overall experience is once in a lifetime. Eagles fan Daryl McDonald Sr. said the event was a "dream come true." 
Featured Image Courtesy of Joe Mesa.