The Ministry of Brewing hosted Bmore Flea's vintage pop-up shop, a market for local artists and resellers to put their passion and talents on display. The repurposed chapel was the perfect environment for vendors and attendees alike to share a passion for vintage clothing, art, and sustainability. 
The chapel was filled with collectors of clothing, jewelry, hats, and other unique items that were available for attendees to purchase. As people sifted through clothes and observed various art forms, vendors were happy to answer questions, negotiate prices, or simply share the love for the art form that is thrifting with the community around them. 
The vendors who occupied the space each had their own unique catalog of items and reasons for attending the event. Local cartoon artist Alex Holaschen was selling art from his comic "that's not funny" and spoke about what it means to him to see people interested in his art. 
"It's amazing! It's the best feeling in the world, especially when someone actually digs it," Holaschen said. "I can't think of a better, more rewarding thing than when you sell something to someone, and they say, 'oh wow, this is cool.'"
For other vendors, attending the event was the equivalent of going to work, as their passion has become a source of income for them. Vintage clothing reseller Terry Belding shared what being at the event meant to him. 
Belding said, "It means the world to me, this is how I support my family, y'know. This is how I keep the electricity on and pay my bills."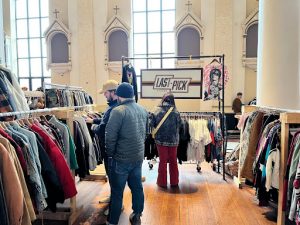 Despite the gratification and monetary gain from reselling clothing, vendors spend countless hours at thrift shops, garage, and estate sales to find clothing that meets the status quo of the thrifting market. Vendor Zack Kirgendoff explains exactly how much work goes into the collecting process. 
"It takes countless hours of blood, sweat, and tears," Kirgendoff said. "People don't see the behind-the-scenes of hitting the racks every single day after work, organizing, pricing, and washing takes a lot of time." 
While making money and spreading joy for the arts was on the agenda for most vendors, reseller Tyler Reid discusses his passion for thrifting deriving from being environmentally conscious. 
"Being mindful of being a little more eco-friendly, y'know, fast fashion has kind of messed the world up," Reid said, "so it's cool to be able to provide something that people enjoy and appreciate and can wear with a lot of pride." 
The next Bmore Flea pop-up will be at the Ministry of Brewing on Feb. 26. Aspiring vendors can apply for a position via email at [email protected]. For more information, follow Bmore Flea on Instagram. 
Featured Images Courtesy of Joe Mesa.