Ravens Lose in Heartbreaking Fashion to Jacksonville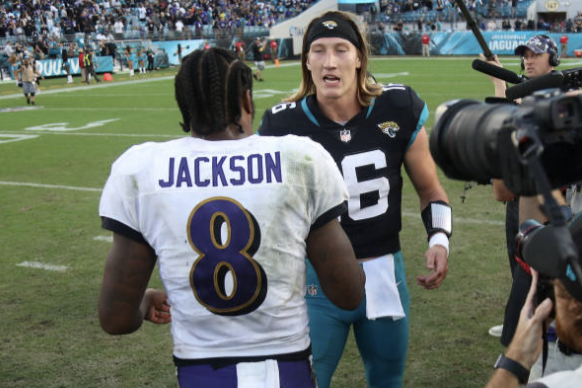 Week 11 looked like it was going to be an easy one for the Ravens as they faced a struggling Jacksonville Jaguars who had only won three games prior to this matchup. However, Lamar Jackson and company struggled early to find the back of the endzone and instead settled for three field goals in the first half.
They would pick up momentum late in the game as both Gus Edwards and Josh Oliver would score but it wasn't enough to stop Trevor Lawrence. The young QB led his team down the field with two minutes left and with 14 seconds to go, he found his wide receiver Marvin Jones Jr in the back of the endzone to put the Jaguars up by one: 28-27.
The touchdown that put the Jaguars up was reviewed by the referees and it appeared that Jones' leg was out of bounds. After further review, the referees declared that he was in fact in bounds and the call on the field of a touchdown would stand. In order to overturn the call, they would need clear and concise evidence showing that he was out of bounds, and unfortunately for the Ravens, they didn't see any. Here is the highly controversial play.
For a catch to be ruled as in bounds, the player must have both feet in bounds. He can drag his feet but if any other part of his body is out of bounds or only one foot is in bounds then it is not ruled a catch. Here is an all-time great example of what a game-winning touchdown catch looks like on the biggest stage: Super Bowl 43.
That play and many others are just a few examples of crazy catches that fans are bringing up in light of the Ravens' loss. They still had a few seconds left on the clock too and got within range for a Justin Tucker field goal. It was from 67 yards, which would have tied his longest kick from a year ago when he made history against Detroit for the win. And while it was on-line, it didn't have enough height and just barely passed under the bottom of the goalpost.
The complaint from several fans is that the win should not come down to Justin Tucker bailing them out as he has done many times in the past. As well as for the defense for not holding their own down the stretch against a team like the Jags who were also missing their star running back, Travis Etienne Jr. The Raven's defense late in games had been in question early on in the season, but many had thought that they had proved their dominance after establishing a winning record at 7-3.
Instead, the Ravens drop to 7-4 and are tied for first place in their division with the Bengals. The past two weeks may have just been a fluke though, as Mark Andrew just returned and seems somewhat healthy. As the Ravens also struggled last week against the Panthers, they still ground out a win.
In the next two weeks, the Ravens will face a struggling Denver team as well as the Steelers who are last in their division. If the Ravens want to take their anger out on any teams, then they will have their chance in weeks 12 and 13.
Featured Image Courtesy of Courtney Culbreath via Getty Images
Your donation will support the student journalists of Loyola University Maryland. Your contribution will allow us to purchase equipment and cover our annual website hosting costs.