It's been almost a week since Bruce Jenner's in-depth interview with Diane Sawyer regarding his gender identity. The interview aired April 24 on ABC as a 20/20 special, titled, Bruce Jenner – The Interview. The special drew in 16.9 million viewers (USA Today) and provided answers to the months of speculation about Bruce's true gender identity. The interview began with Bruce and Diane sitting down in Bruce's Malibu home. As Bruce welcomed Diane and the crew into the house, he and Diane sat down and he said, "Diane, let's do it" followed by, "I've been thinking about this day for forever." Bruce appeared to be nervous about the interview, because he knew that this was a life-defining moment, not only for him, but for his family as well. As the interview got underway, Diane posed the highly anticipated question, "Bruce Jenner is…?" Bruce began to explain that he's been confused about his gender identity since he was a kid. Finishing with an anecdote about how when God was making "little Bruce," God decided to give him the soul of a female, in a man's body. Bruce Jenner, age 65, has been living a lie his entire life and has been afraid to be true to himself. Then, Bruce took Diane Sawyer back to the place where it all started, the steps of his childhood home in Tarrytown, NY (ABC News). While standing in front of his old home, he began telling Diane the instances where even as a child, he felt more connected with his feminine side. He spoke about the several times when he would try on his sister's clothes and feel comfortable, but knew that others would not see it that way.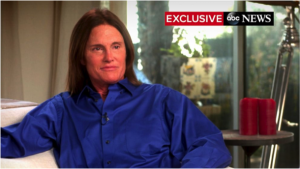 The interview moved back to Bruce's Malibu home and as he and Diane continued to talk about his journey, he stated, "I'm me. I'm a person, and this is who I am." He continued by explaining how his brain is much more female than it is male. "Bruce has always been telling a lie," was one of the next statements that he said, and Diane finally asked, "Are you a woman?" With a small pause before answering, Bruce replied, "Yes, for all intents and purposes I am a woman." Following this, Bruce began to discuss the fear that he had when realizing that he would have to talk to his kids about it and deal with their reactions. He said, "My kids are the only people in my life that I can't allow myself to hurt." He explained that Brandon was the first of his 6 kids and 4 step kids that he told about his gender identity. 33-year-old Brandon, who's called the Gandhi of the kids, appeared on camera first and talked about the time when his father sat him down and started telling him about his gender identity struggles. Brandon said that after his father told him everything, he felt a sense of relief for his dad. Next, all four of Bruce's eldest children, Burt, Casey, Brandon, and Brody, came on screen to talk about the moments when they found out the truth about their father. His 34-year-old daughter, Casey, asked, "What do you want us to call you?" She explained that Bruce immediately interrupted her saying, "I'm dad. You can call me dad. I'll always be your dad." This heartwarming statement lead to the rest of his kids expressing their love and support for their father and the bravery that he's displayed.
The tone of the interview quickly shifted to flashing cameras and loud crowds, so it was time to talk about the Kardashians. Bruce Jenner was married to Kris Kardashian and together they had Kendall and Kylie. Bruce is the stepfather to Kourtney, Kim, Khloe and Rob Kardashian. Diane asked Bruce how he discussed his feelings and gender identity with the Kardashian side of the family. He explained that he invited them over to his house and sat them down and watched them all cry, mainly because they didn't want anyone to hurt their dad. Bruce told Diane how he tried explaining to his kids that he will always be their dad, and although a few things are going to change in their lives, that will never change.
Bruce Jenner, once hailed as an Olympic hero, has torn down the facade that he's put up publicly and is finally being true to himself for the whole world to see, "I'm saying goodbye to people's perception of me and who I am. I'm not saying goodbye to me, because this has always been me." For many, the interview was regarded as brave, inspirational and a step forward for many others struggling with gender identity. Media outlets everywhere heralded Bruce as a hero for the transgender community and a catalyst for their acceptance in society. In addition to the media, Bruce received endless support from his family in the interview and off-screen on social media. Kendall Jenner tweeted, "so very proud of you, my hero." Kim Kardashian West tweeted, "Love is the courage to live the truest, best version of yourself. Bruce is love. I love you Bruce. #ProudDaughter." Khloe Kardashian tweeted, "Just finished watching the #BruceJennerInterview with the family. Bruzer, I'm soooo proud of you! Dads really are heroes."
For others, the interview was seen as a business strategy to boost ratings for the family show on E!, Keeping Up With The Kardashians. Bruce could only laugh at this statement and say how ridiculous it was for people to think that he would go through all of this trouble for ratings on a TV show. "Bruce lives a lie, she is not a lie. I can't do it anymore." After finally breaking the silence about his gender identity struggles and journey throughout his life, he will now start publicly living out the person that he has always been, the real Bruce Jenner, a woman.