Loyola Men's Lacrosse Goalie Named Patriot League's Goalie of the Week Twice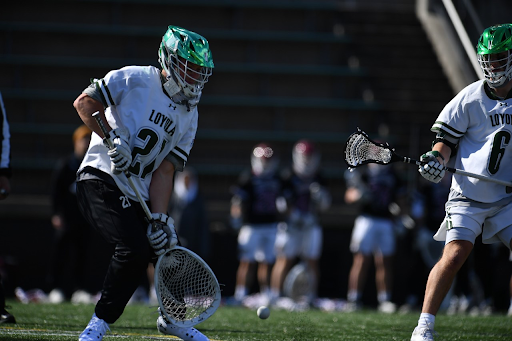 Loyola Men's Lacrosse had one of the best starts yet with two immense victories over #1 Maryland and #9 John Hopkins to begin the 2023 season. Luke Staudt '24, the team's goalie, was nominated as the Patriot League Goalie of the Week for the first two weeks of the season. Staudt put up impressive numbers to earn this title and was asked how he felt about his achievements so far.
"Humbled, I genuinely felt humbled," he said. "There are so many great goalies in this league and for me to get it the first two weeks is humbling. But it is not about the individual awards, it's about what happens on the field with the team."
The 2023 season is Staudt's first year as the starting goalie for the Loyola Greyhounds. Staudt recorded 19 saves and had a .731 save percentage in the 12-7 win over #1 Maryland. The next weekend, the Battle of Charles Street took place as Loyola defeated #9 John Hopkins with a 13-8 victory, Staudt having a .667 save percentage with 10 saves. 
"I felt confident during the game, more than I felt going into it, especially playing a team like Maryland," Staudt said. "I am excited to see what this team can do and how they can build off of last season."
Before being able to start in his first collegiate game for Loyola, Staudt had to overcome obstacles that stood in his way. The freshman and sophomore years of Staudt's career were impacted by the COVID-19 pandemic and an injury. Now as a featured member of the team, he has an opportunity to showcase his abilities. 
Staudt said, "I definitely got something to prove. Being highly talented in high school and first coming here, I was not able to show my full abilities. There is some urgency to come out and play and that starts with working hard every day."
The 2023 lacrosse season was his first as the starting goalie, bringing him to realize that it is his turn to bring the Greyhounds to the top. From the net, Staudt can see everything on the field.
"I think we got a chance to be good. We are a different-looking team than we were last year," he said. "On the offensive side, we are young but on the defensive side, we are mature. We have the potential to win the Patriot League."
Before Staudt's career with the Greyhounds, he played for West Genesee High School in upstate New York. From a young age, he participated in multiple sports. Just as high school was about to start, he chose to focus on his lacrosse career and set his sights on playing college lacrosse.
 "I started playing in third grade, but not until 8th grade did I realize that I should start taking lacrosse seriously, as I saw a great deal of college lacrosse players come from my high school," Staudt said. 
Staudt and the rest of the Loyola Men's Lacrosse team look forward to the rest of the season. It's clear that the goalie is playing well along with the rest of the team and we wish him even more success as the season continues. Currently, Loyola is 5-3 with a 2-1 record in the Patriot League. The team is looking to get another Patriot League win on Saturday, April 1 when they play Holy Cross at 3:30 p.m. here at Ridley Athletic Complex.
Leave a Comment