With the third pick of the first round Joe Fletcher became the highest-ever draft selection from Loyola when he was selected by the Long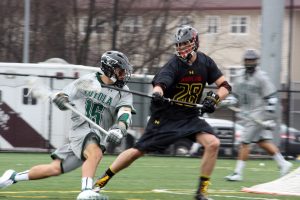 Island Lizards. Arguably the best close defender in the nation, Fletcher has anchored the Greyhounds defense and was an integral part of Loyola's 2012 national title run.
Shortly after his selection midfielder Pat Laconi was selected with the ninth pick overall and the first pick of the second round by the Charlotte Hounds. Charlotte has spent the past three drafts stocking up on Loyola talent, drafting Eric Lusby, Mike Sawyer and trading for Josh Hawkins. They also selected Loyola Attackman Justin Ward with the 23rd pick. This brings the total number of Loyola Greyhounds selected in the past two years to eight, all of which took part in the 2012 national championship.
"This is a tremendous accomplishment for these guys who have been big parts of our success since stepping onto campus," Head Coach Charley Toomey said. "They are great people, players and leaders, and we look forward to starting practice with them on our field Monday."
Fletcher has garnered All-America recognition as well as interest from Team USA. He was the 2013 ECAC Defensive Player of the Year and teams with Pat Laconi to set a NCAA division one record by successfully clearing the ball 95.5 percent of the time.
Justin Ward earned All-America honorable mention after last season's campaign, finishing 11th nationally in assists per game and 19th in points per game. His 35 assists last season were good enough for third on Loyola's all-time single season list. In February of last year Ward had a career night in the rain at UMBC when he scored seven goals and added three assists, the first Greyhound to put up those numbers since 2000.