Washington D.C. is currently preparing for the beautiful blooming of the Japanese cherry blossoms, which are predicted to be at "peak bloom date" between March 23 and March 24. According to the National Park Service, on these dates, the trees are expected to be at 70 percent full bloom. Due to weather conditions and environmental variables, the predictions change every year, but usually blooming begins in late March or early April. Once in full bloom, these Japanese trees are famous for their vibrant pink and white colors and are known as Sakura trees. With the blossoming of these trees, D.C.'s annual festival will be held from March 20-April 17. This four-week-long festival is known to be bustling with tourists and visitors attending the festival's events, touring D.C., and taking in the site of the trees.
In 1912, the mayor of Tokyo, Yukio Ozaki, gave the city of Washington D.C. over 3,000 cherry trees. This gift was to celebrate and commemorate the friendship and harmony between the countries of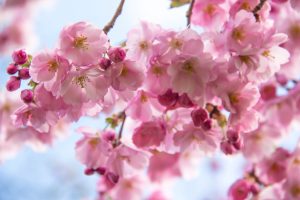 Japan and the United States. Japan sent 2,000 trees two years prior, but this set of trees were unfortunately delivered with insects and were burned. In 1912, the new batch of trees were planted with a ceremony led by First Lady Helen Herron Taft and the Japanese ambassador's wife. Three years after this, the U.S. donated dogwood trees and cuttings from the cherry trees to give to Japan after a flood. The first Cherry Blossom Festival began as a play held by school children in 1927, and afterwards expanded into the grand festival that exists today.
Apart from the beauty of the Japanese cherry blossoms, there will various events taking place during the festival. Some of these include the opening ceremonies family day on March 26, the blossom kite festival on April 2, waterfront fireworks on April 9, the National Cherry Blossom Flower Parade April 16, and Sakura Matsuri —a celebration of Japanese culture that will also take place on April 16. This annual event is made possible because of a collaboration of sponsors and supporters, such as Events DC, ANA, Downtown DC, TCMA, Ronald Reagan Building and International Trade Center, P&G, and the National Park Service. This festival not only celebrates peace among nations, but also appreciates the importance of culture and diversity.
If you cannot make it to D.C. during the festival, be sure to check out the National Park Service's live cherry blossom cam on their website.
http://www.nps.gov/subjects/cherryblossom/cherry-blossom-cam.htm
Feature Image: Michael Foley Photo, Courtesy of Flickr URL