While some events over the past few years may have left you thinking that Justin Bieber was spiraling out of control, his new album "Purpose" is proving just the opposite. With what might possibly be some of Bieber's best work yet, he is showing doubters and fans alike that he isn't going anywhere.
Bieber's return to the music industry began earlier this year when he collaborated on a song with Skrillex titled, "Where Are Ü Now." The upbeat, dance tempo of the song swept the radio and had heads bobbing everywhere. Following this single, Bieber continued to make waves with the release of "What Do You Mean?" in late August, the first official song released from "Purpose." This single was Bieber's first song to grab the number one spot on the Billboard Top 100 chart.
Most recently, Bieber has taken over everyone's playlists once again with his catchy new song "Sorry." The tune focuses on Bieber asking for forgiveness for a mistake made while in a relationship. With the help of his most recent success, "Purpose" has been able to top the iTunes charts since its release on Friday, Nov. 13.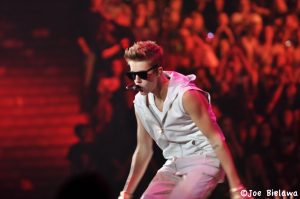 The album features an eclectic mix of upbeat, dance tunes as well as slower ballads. It displays a more mature side of Bieber, one that proves he has clearly moved on from his teenybopper days. Following a highly publicized relationship and breakup with Selena Gomez, the album has plenty of material for listeners to relate to regarding the highs and lows of relationships, as well as life in general.
"I'll Show You" and "Life Is Worth Living" are both songs clearly based around the young star's journey of earning a better reputation. Following a series of bad decisions, Bieber is making an effort to bring positivity back into his life. The songs focus on proving people wrong and working through difficult times, because something better will be waiting on the other end.
"Purpose" also includes a few appealing collaborations that will surely climb the charts in the upcoming weeks. "The Feeling," which is almost guaranteed to get stuck in your head, is a strong duet featuring upcoming artist Halsey. Big Sean is featured in the song "No Pressure," based on two people who are hesitant to enter into a relationship.
The album in its entirety offers a nice change in pace from Bieber's typical style, but isn't too different from the types of songs his fans know and love. It is something that old fans will love, while also attracting even more fans to Bieber's new flair.
Feature Image: Joe Bielawa Photo, Courtesy of Flickr. URL