"Love Song" singer Sara Bareilles has taken on a new musical challenge with the release of her latest album, "What's Inside: Songs for Waitress." Released on Nov. 6, the record is the soundtrack of the brand new hit musical, "Waitress," starring Tony Award winner Jessie Mueller. "Waitress" is based on the motion picture written by Adrienne Shelly, which was inspired by the novel written by Jessie Nelson.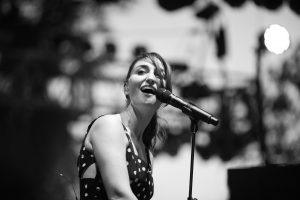 The musical tells the tale of Jenna, a waitress who is "stuck in a small town and a loveless marriage." After discovering that she is pregnant, Jenna is swallowed by the fear that she will never be able to pursue her lifelong dream: to own her own pie shop. In a twist of fate, she meets a handsome young doctor and simultaneously finds herself in the middle of a baking contest, two events which change her life forever and lead her on a road to happiness.
With each track, Bareilles takes listeners on an emotional rollercoaster that has us going from laughing to crying within minutes. The single, "She Used to Be Mine," which was released on Oct. 25, encompasses what it is like to feel lost and not good enough. Bareilles beautifully serenades us in a reminder that it is our imperfections that make us perfect and irreplaceable, and that we all have the courage to be who we want to be — we just have to search within ourselves to find it.
Songs like "When He Sees Me" and "Never Ever Getting Rid of Me" narrate the feelings of awkwardness and nervousness that we are all too familiar with when meeting someone new, as she paints falling in love in a funny and quirky way. Other tracks like "Bad Idea" and "You Matter to Me" also feature popular singer Jason Mraz.
In this brilliantly crafted album, Bareilles turns the seemingly mundane job of being a waitress into something truly magical, as she creates lyrics filled with passion, soul-searching, and lots and lots of baking. After a very successful sold-out run at Boston's American Repertory Theater, "Waitress" is set to hit Broadway this March. Tickets are sold at www.waitressthemusical.com, with a chance to win 50 great prizes.
Feature Image: Thomas Hawking Photo, Courtesy of Flickr URL