Dylon Cormier went for the loose ball, and Loyola's season took a turn for the worse.
The senior broke two bones in his left hand as he fell to the floor in a February 1 home game against Army. He would undergo surgery, ending his season and his college career.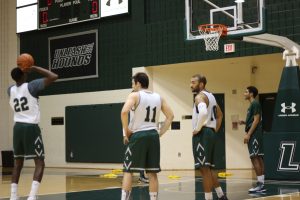 "You could see it in our faces that his [college] career was pretty much done," second-year head coach G.G. Smith said.
In their first game without Cormier, the Greyhounds upset the undefeated, first-place American University Eagles, who later won the Patriot League to earn an automatic bid in the NCAA Tournament. After that, however, Loyola lost seven of its last eight games to finish the season tied for seventh in the Patriot League with an 11-19 record.
If the Greyhounds learned anything from the 2013-14 season, it taught them to adjust to life without Cormier.
Loyola is projected to finish ninth in the 2014-15 Patriot League preseason poll, a survey of the league's head coaches and sports information directors. Only Navy is predicted to finish worse in the conference.
"Those preseason polls are all about who you have coming back," Smith said. "We've lost so much as far as our stats, with Dylon and Jordan [Latham]. It doesn't shock me."
Smith pointed out that American was also picked to finish ninth in last season's preseason poll, but the Eagles ended up winning the conference tournament.
"We use that as motivation, but we don't read too much into [the preseason poll]," Smith said. "You have to be placed somewhere. But that's why they play the games."
Although the Hounds lost Cormier and Latham to graduation, Loyola is still returning the majority of last year's roster. Juniors Jarred Jones, Eric Laster, Franz Rassman, Tyler Hubbard and senior Denzel Brito all return to lead the younger players.
Jones led all returning players in scoring and rebounding last season, averaging 8.6 points per game and 4.5 rebounds per game. He really stepped up when Cormier went down, scoring 28 points and grabbing 10 rebounds in a season-ending loss to Lafayatte in the first round of the Patriot League tournament last season.
"He's a guy who is mature beyond his years," Smith said of Jones. "He came off the bench for us [last year] but will definitely be a starter for us this year. He's our most versatile player; he can defend guards and he can defend big men."
Laster returns as last season's leading three-point shooter. His most memorable moment as a Greyhound came in last year's come-from-behind overtime victory over UMBC, when he drained four 3-pointers in a 41-second span in the last minute of regulation to stun the Retrievers. The win made Loyola 4-0 on the season.
"He probably had the best summer," Smith said of Laster. "He has a chance to be our best overall player and our best defender. He played a lot of minutes for us [last season] so we really have to watch that this year. But his ceiling is really high."
Hubbard also is a threat from beyond the arc. He led the Greyhounds with 20 points and six 3-pointers in last season's upset win over American after Cormier got hurt.
Denzel Brito, a fifth-year senior who transferred from Loyola Chicago, led the team in free-throw shooting last year in his first season as a Greyhound. Brito might start at point guard for the Greyhounds, according to Smith.
Sophomore Nick Gorski looked promising in his debut season last year, and is a solid rebounder and will even step back for the occasional three.
The Greyhounds bring five freshmen into this season: Andre Walker, Chancellor Bernard, Colton Bishop, Cam Gregory and Matt Staubi.
"Our freshmen have been really impressive," Smith said. "It's probably one of the better classes ever at Loyola."
In August, the Greyhounds took a trip to Montreal, Canada, to practice, and they played five exhibition games, winning each one.
"The NCAA allows us once out of four years to take our team to a new country," Smith said. "It was good for us. It got the taste out of our mouth from losing, and we went 5-0 [in Canada]. It really prepared us for this season, and hopefully [the winning] will carry over."
Loyola will face a much tougher challenge during the regular season. Before entering Patriot League play, the Hounds will be up against many tough non-conference opponents, including No. 23 Syracuse, Butler, Siena and Texas Tech. The latter two matchups will involve interesting storylines.
Siena is led by former Loyola head coach Jimmy Patsos, who took the Greyhounds to the NCAA Tournament just three years ago during the 2011-12 season. Last season, Siena won the College Basketball Invitational Tournament in Patsos' first year with the Saints. The coach will make his return to Reitz Arena when Loyola hosts its former MAAC rivals on Nov. 29.
Perhaps the biggest storyline of the season will be the Greyhounds' opening game against Texas Tech on Nov. 14, when G.G. Smith goes up against his father, Tubby Smith.
Now the coach of the Red Raiders, Tubby Smith was the head coach at Kentucky when the Wildcats won the 1998 NCAA Championship. This will be the first meeting between the father and son as head coaches.
"I played against [my dad] when I was a player at Georgia and he was the head coach at Kentucky," G.G. Smith said. "But this will be different. He's my biggest mentor, and it'll be a good test for us. I don't know if my mom's going to like it."
With a number of tough games on the schedule this season, Loyola will need to be ready to compete at a high level to prove the critics wrong. The team will also need to replace the leader that Cormier was.
"Our biggest question is what our identity is, and who's going to lead this team," Smith said. "But we're working every day, and we're ready to get started."