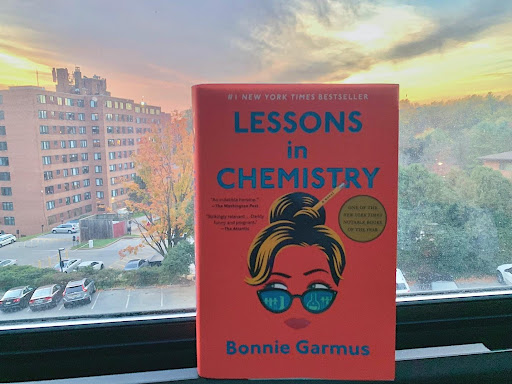 On Nov. 1, best-selling author Bonnie Garmus visited Loyola to deliver the 32nd annual Sister Cleophas Costello Lecture. Garmus, whose debut novel "Lessons in Chemistry" has remained on the New York Times Best Sellers list for 51 weeks and has been adapted into an Apple TV+ series starring Brie Larson, addressed a crowd of around 700 students, alumni, and community members on the last stop of her U.S. book tour. 
Wearing a white lab coat emblazoned with the title "Chief Word Chemist" gifted to her by Loyola, Garmus participated in an interview conducted by Dr. Theresa Nguyen, a professor of chemistry and Loyola's 2023 Distinguished Teacher of the Year. Garmus answered questions about her writing process, talked about her passion for rowing, and shared heartwarming anecdotes, including one about her late dog, Friday, who would pick up her kids from school just like the fictional dog Six-Thirty in her novel.
Madeline Hickey '26, a Biochemistry and French major at Loyola, read "Lessons in Chemistry" over the summer and was excited to attend the talk. She loved hearing Garmus discuss the book, especially when the author shared instances of herself and other women modeling the spunk and persistence of her novel's protagonist, Elizabeth Zott.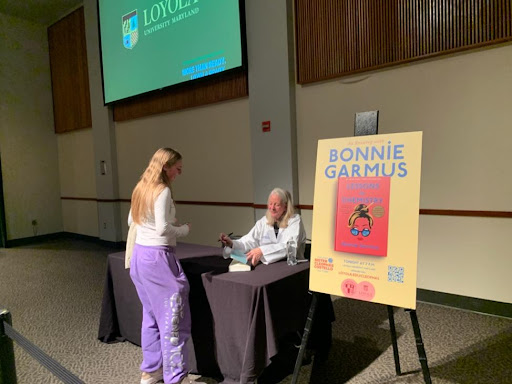 "Professor Nguyen had really great questions for her, so I just loved all her feedback and how she flowed the whole thing. But my favorite part was probably when [Garmus] talked about her own dog and how she incorporated that into the book. She really wanted it to be a dog when her producers wanted it to be a cat because they were all cat people, and she fought through that," said Hickey. 
Garmus and Nguyen also touched upon more serious topics throughout their conversation. "Lessons in Chemistry," which follows a female chemist's struggle for equality in the face of rampant sexism in a male-dominated field throughout the 1950s and 1960s, shines a light on the sexual harassment in the workplace and the pressure to fill stereotypical gender roles that women face, both in the novel's setting and today. Garmus shared that she wrote the first chapter of her debut novel after her male boss stole one of her ideas during a meeting when she was the only woman in the room. When Garmus confronted her boss about the theft, none of her male coworkers defended her. 
"Have we as women moved forward in the world? Have we actually overcome some of the sexism and unconscious bias that we have? And that day I wasn't so sure we had," Garmus said to the crowd as she described the day of her novel's inception. 
Hickey reflected that, although her life is vastly different from that of the novel's protagonist, she could sympathize with some of the fictional character's struggles as a woman in the workplace. 
"People not thinking that women can work in STEM, specifically… I'm also a referee for school, and I see that in the refereeing world, where I'm not put down but the players don't respect me because I'm a woman, and it's a very male-dominated world," said Hickey. 
Garmus told the audience that she has seen the message of resilience in the face of doubt and discrimination depicted in her book touch the lives of people across the globe. The author explained how the novel has provided a strong role model for women to see reflections of their own experiences  and a source of inspiration. Garmus also passed on the stories of multiple women who cite "Lessons in Chemistry" as the inspiration for them to pursue higher education or continue to work towards their career goals.  
Throughout the talk, the predominately female audience was enraptured by Garmus. The crowd, spanning all ages, were united in their laughter, applause, and adoration for the author. 
Each year the Sister Cleophas Costello Lecture spotlights a prominent woman who epitomizes leadership, scholarship, and artistic ability. However, every year, the lecture also honors its namesake, Sr. Cleophas Costello, the former president of Mount Saint Agnes College, who also exemplified all three values which the lecture celebrates.
Costello served as the president of Mount Saint Agnes College, an all-women's college in Baltimore, from 1953-1968, and presided over the college's merger with Loyola in 1971. Mary Quinn, who graduated from Mount Saint Agnes in 1960, remembers Costello for her talent and achievement. 
"She was a musician. She was T.S. Eliot backwards and forwards. She was what you would call a Renaissance woman, and that's what they refer to her as, as a Renaissance woman, because she accomplished everything," said Quinn. 
Now in its 32nd iteration since the 1970s, the Sister Cleophas Costello Lecture has been a chance for alumnae of Mount Saint Agnes to reconnect and celebrate their community. Brian Oakes, the vice president for advancement at Loyola, sees the event as vital in upholding the ties between the former college and Loyola.
"This is, in addition to our Mount Saint Agnes reunion every year, is probably the second most well-attended event by Mount Saint Agnes alumnae, as well as Loyola. Loyola alumni come to a lot of things, Mount Saint Agnes alumnae come to this in particular," said Oakes.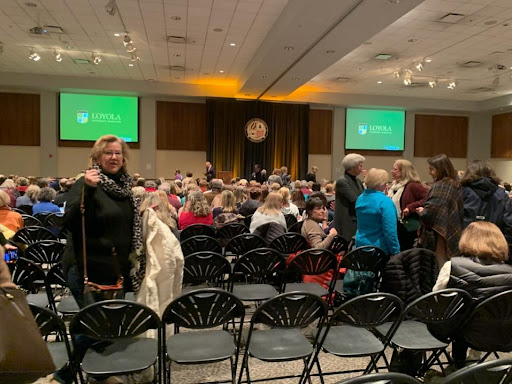 Looking back at her time at Mount Saint Agnes, concurrent with the action of "Lessons in Chemistry," Quinn reflected that although she saw some of her experiences echoed in the sexism depicted in the book, she looks back at her time in college as one of freedom and empowerment, in large part because of Costello. 
"[Reading the book] I said, 'this is your life. You lived through that period where things didn't always go your way, and things weren't always fair, and the guys kind of ruled everything'… but [Costello] was a great pusher. 'You can do this, go ahead, try this.' That was in the 1950s and 60s. That was the time that [Garmus] was talking about. 'Don't let them push you back. You can do it.' And I think we did," said Quinn.