Undocumented Loyola Student at Risk of Deportation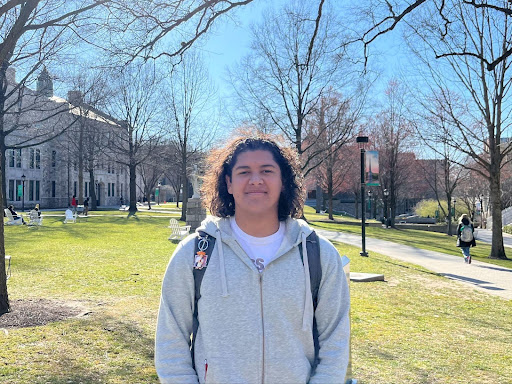 Adolfo Martinez '24 is a forensic studies major and a club ultimate frisbee team member. Martinez is also undocumented and has received an order for deportation, with a preliminary hearing set for May. 
Martinez was born in the city of San Pedro Sula, Honduras. When he was just a year old, he and his mother came to the United States on a tourist visa. They fled Honduras due to high crime rates and threats that were being made against their family. Their time in the U.S. was originally supposed to be temporary, but when the situation in Honduras did not seem to be getting any better, they ultimately decided to stay. Martinez and his family initially lived with his aunt in Florida, and when he was about four years old, they moved to Maryland where his father found stable work. 
Despite his undocumented status, Martinez described his childhood as a very typical American upbringing. For the most part, it did not affect him when he was young, except for his ability to play sports. 
"In my early youth, it stopped me from doing sports just because we couldn't have health insurance. So, my mom was constantly worried about health insurance and if I got hurt playing a sport, how were we going to afford that," he said. 
However, Martinez thrived as he attended public school, joined Boy Scouts, and eventually played sports as he got older. 
Martinez began seeking legal status when he was 15 years old, immediately following the election of President Donald Trump. He and his parents, along with volunteer lawyers from CASA, a nonprofit immigration advocacy and assistance organization based in Maryland, deliberated whether or not he should apply for DACA. DACA, or Deferred Action for Childhood Arrivals, is an Obama-era policy that grants temporary relief from deportation and work authorization to certain young undocumented immigrants. Martinez meets all the qualifications for DACA and should be eligible. However, he and his parents decided against applying because of President Trump's burgeoning presidency and his threats to dismantle the program. 
"Ultimately my parents and I decided against it because of Trump's administration. We thought that it was far more unsafe to apply than if I just kept living as I was," Martinez said. 
When he turned 18, Martinez and his parents decided that he should apply for asylum. However, they were unaware that after two years of living in the U.S., it is typically not possible to make a valid asylum claim. To be granted asylum, he would have had to prove that he has either suffered persecution in his home country in the past or that he has a "well-founded fear" of future persecution if he was to return. Considering Martinez only lived in Honduras for his first year of life, he was unable to prove this as he essentially has no recollection of what life is like there. Therefore, his asylum application was rejected.
"I've been here since I was really little, so I don't really know anything about the dangers of Honduras. So, there was no pertinent fear or anything. I couldn't really sit there and be like, 'I don't want to go back, I'm afraid,' because I'm really not," Martinez said. 
The asylum application is what led to Martinez receiving an order for deportation. He was supposed to have multiple hearings in 2020 following his 18th birthday, but because of the COVID-19 pandemic, they were pushed back by a few years. He has a preliminary hearing in May and after it takes place, he hopes the case will be dropped. If it is not, it could lead to a hearing that would decide whether the Loyola student will be permitted to stay in the United States or be deported to Honduras. 
As he has been navigating this unpredictable situation, Martinez said he has found a sense of belonging on Loyola's campus. He expressed his gratitude for the opportunity that Loyola has given him to pursue a college education, as it was the only school he applied to that gave him any type of financial aid. 
"Financially, [applying to colleges] was a challenge. I couldn't apply for FAFSA, so I was only going off the money colleges offered me in merit scholarships. I did get lucky with Loyola because they're a private school. I applied through the CSS profile and that's how they gave me financial aid," Martinez said. 
The college junior has taken a liking to the size of Loyola and the community-like atmosphere it exudes. According to Martinez, it is much easier to find where you belong on campus because of its small size compared to larger institutions. Although he initially came to Loyola for financial reasons, the sense of community and belonging is what has kept him here. 
After local nonprofit news site "The Baltimore Banner" published an article about Martinez and his situation earlier this month, he noted that he received a significant amount of support from the Loyola community. 
"After 'The Baltimore Banner's' article came out I can 100% say for sure that there are a lot of people that I have never met on this campus but are instantly willing to help me in any capacity that they can," Martinez said.
Although his future remains uncertain, Martinez has post-graduation plans and career goals just like any other college student. After obtaining his forensic studies degree, he hopes to work for the Baltimore Police Department as a crime scene technician. Eventually, he would like to become an expert witness working in the legal system alongside lawyers and police officers, providing the knowledge that he has acquired through being a crime scene investigator. 
Martinez also continues to serve as an advocate for institutional change that would make it easier and more accessible for undocumented people to obtain legal status and reduce the number of people in his situation. 
"There are a lot of people in this country that complain about people in my situation and how we're here illegally and we're doing it all wrong. I've always believed that if they're going to complain about us doing it 'wrong,' then make it easier for us to do it correctly," Martinez said.
Martinez remains composed and optimistic despite his circumstances and speaks about his experiences with poise. He shared his excitement about the opportunity for the Loyola community to hear his story and is proud to represent those who are in similar situations to him.
Leave a Comment