Hear Ye Hear Ye: Renaissance Faire on Loyola's Campus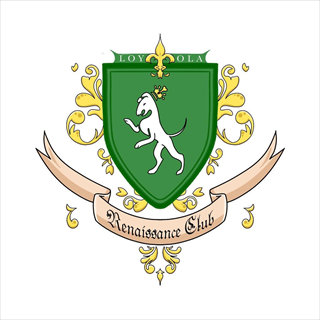 Have you ever wanted to go to a Renaissance Faire? On March 19 from 12:30 p.m. to 3 p.m., the Loyola Renaissance Society will be hosting Loyola's first-ever Renaissance Faire in McGuire Hall! The initiative has been entirely student-led. I was lucky enough to attend a meeting between members and get a behind-the-scenes look at the work put into the event so far.
"I joined the Renaissance Society per Burger's request," said Mac Ferrone '25, one of the head writers for the Renaissance Faire's program. "I've always been interested in Lord of the Rings and fantasy. I've always thought ren faires were really cool, even though I've never been to one. Being given the opportunity to write is also a great chance to practice scriptwriting". 
The scriptwriting will be part of the faire's plethora of events. This includes live skits inspired by Monty Python, actors and bits, and robot jousting created by our very own VEX robotics team. Some other points of interest include a scaled-down functioning trebuchet, exhibits of contemporary research by students, and tomato throwing (red jello) from which all proceeds will go to Relay for Life. 
Another member of the board, Owen Lawton '25, expressed how he has high hopes for how the faire will be received by the campus.
"It's a cool and fun idea," he said. "It can be a Loyola tradition going forward. We think we're going to put on a cool little show and we hope to make it better every year." 
What may be one of the most attractive aspects of the faire for the students on campus is that admission is free. There will be music and refreshments included with entry. There will also be 
vending from students and student groups on campus, which will not be free, but will include jewelry, chainmail, tarot card readings, and more.
This will be the product of months of planning. Directors, writers, and organizers have all come together to produce an unforgettable experience. Michael Burger '25, lead officer of the club gave me his thoughts on the work so far.
"The whole process has been a great lesson in how a dream and vision you start with can change along the way. The willingness and creativity have been remarkable," Burger said. "I think Loyola really encourages creative thought and gives us a space to develop new ideas. It's a niche but also very popular media that'll be funny while connecting with a lot of people. We think it's a show of passion and hopefully it'll make a lot of people happy."Admission is free and the event will be hosted from 12:30 p.m. to 3 p.m. in McGuire Hall on Sunday, March 19th. You can register here and we hope to see you there!
Leave a Comment