The Fine Arts Department recently released the 2019-2020 season of shows that will be performed at DeChairo College Center's McManus Theatre and Black Box Theatre. Among the productions is the widely celebrated jukebox musical "Mamma Mia!," featuring music by ABBA. While "Mamma Mia!" and two other shows will be featured next spring, two productions will precede them this fall.
As per tradition, three of the five productions are to be directed by professional staff and/or guest directors. The remaining two are student directed and led, meaning students earn experience in directing, managing, and designing roles. These student-led productions mark two subsects of The Evergreen Players, the overall theatre group, including the Poison Cup Players and the Spotlight Players.
Up first is the Poison Cup Players' "Stop Kiss," directed by Emily Hopkins '20. Written by playwright Diana Son, the show explores the story of Callie and Sara's first kiss and the horrific attack that follows it.
"I loved 'Stop Kiss' the first time I read it a few years ago for several reasons," said Hopkins. "The timeline structure of the show really interested me and will be fun to work with and hopefully even more fun to watch!"
Hopkins continued, "Although the show is set in the '90s, I think the conversation about violence against people in the LGBTQ+ community is still an important conversation that we can't leave unheard. The attack on two women in London this summer unfortunately reminded me that we need to continue to share different experiences because that is the best way to reach a humane level of understanding."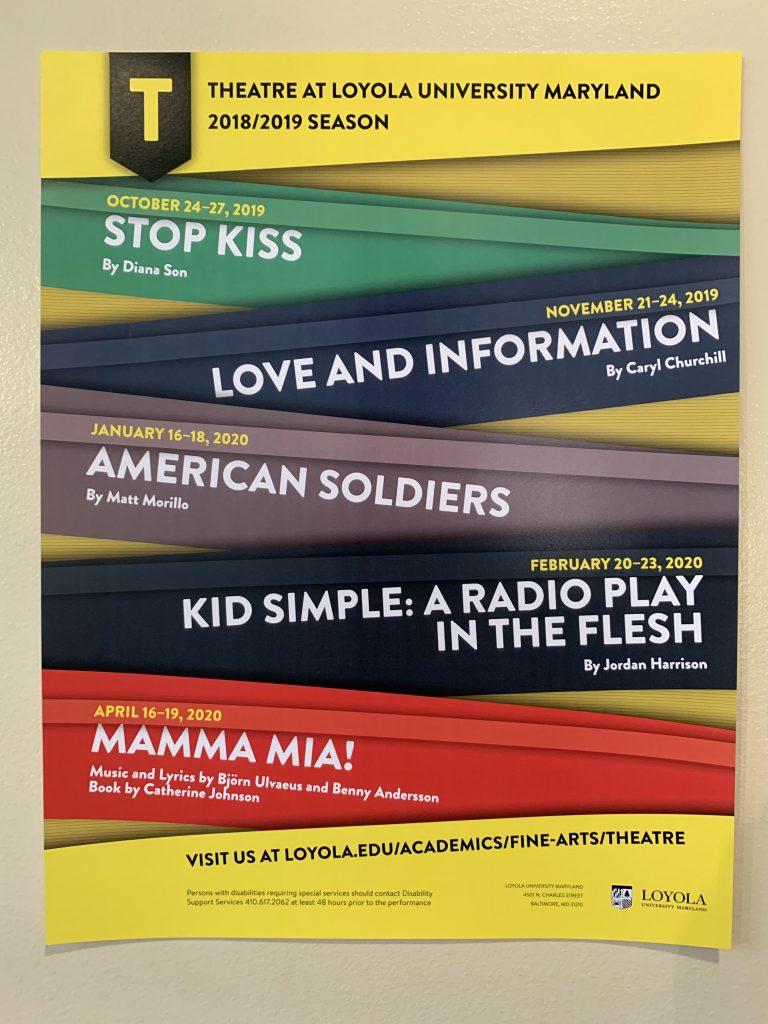 In November, Kyle Prue will be guest directing "Love and Information" by Caryl Churchill. The play opened in London's Royal Court Theatre in 2012. Along with "Stop Kiss," auditions for "Love and Information" will be coming up early in the fall semester.
The Spotlight Players will perform "American Soldiers" by Matt Morillo in January 2020. As the second student led production, the play will be directed by Katie O'Donnell '20 and focuses on the effects of Post Traumatic Stress Disorder (PTSD).
Caitlin Dwinnell '20 has been a part of Spotlight productions for the past three years. "Spotlight is such a special program because in the past we've helped charities like the American Cancer Society, NAMI, and local Baltimore shelters," said Dwinnell. "I'm really excited for this year since American Soldier will bring much needed awareness to people with PTSD."
Next, in February will be "Kid Simple" by Jordan Harrison and directed by Ann Turiano. Loyola theatre fans will recognize Turiano from her affecting stint as Soccer Mom during Natka Biankini's 2018 adaptation of "The Wolves."
Finally, next April will boast a feel-good end to the season in "Mamma Mia!" by Benny Andersson, Bjorn Ulvaeus, and Catherine Johnson. The production will be directed by Jim Bunzli, whose past Loyola credits include "Comedy of Errors," "The Real Thing," and "Macbeth."
"I'm really excited about the lineup of shows, especially 'Mamma Mia!'" said Evergreen Players President Lizza Banquer '20. "As a senior this year, I'm excited that this will be our last show."
The musical will be the first since 2017's "Spring Awakening." Auditions for "Mamma Mia!," "American Soldiers," and "Kid Simple" will likely take place before winter break.
"I'm really excited for this upcoming season," said Secretary of the Evergreen Players Joe Doyle '21. "Stay tuned to @loyolamdtheatre on Instagram for the latest updates on what we're up to!"