If you are like me, you are drowning in work right now. But if you are also like me, you are a big procrastinator! So, let's make this short and sweet:
Thumbs Down: The winter illness continues. Honestly, everyone is sick. The flu has apparently been going around Loyola, so everyone make sure you are covering you mouth when you sneeze and are making sure to wash your hands, especially during this time in the life of a college student.
Thumbs Down: MIDTERMS. Yeah, this is a big NO. Last week (and probably the next two weeks) were/will be down right terrible. I haven't even had time to think. But at the same time, I am finding time to watch The Office?? Don't be like me and procrastinate kids, it never ends well.
Thumbs Down: Uhm, what was with the lack of off on President's Day? I know we are a college, and mostly only high schools have off for President's Day, but hey, if the post offices can be closed, I say we should be closed, too. I really could have used today to do work (or sleep).
Thumbs Up (Yes, not everything is bad): Indoor track! Senna Ohlsson became the first Loyola University Maryland track and field student-athlete to win an indoor or outdoor individual championship. Congrats Senna! And be on the lookout for an article about this soon
Thumbs Down: Dan, our Ops Editor HAD TO LOOK UP WHAT OTTERS WERE! Our Sports Editor Molly is going to be playing with otters over her Spring Break (!!!!!) and Dan had to look them up. He thought she said "utters" as in COW UTTERS. NO. WE MEAN THESE CUTE LITTLE SWEETIE PIES. Don't worry, I will make sure she takes photos so we can all be jealous.
I MEAN LOOK THEY'RE HOLDING HANDS.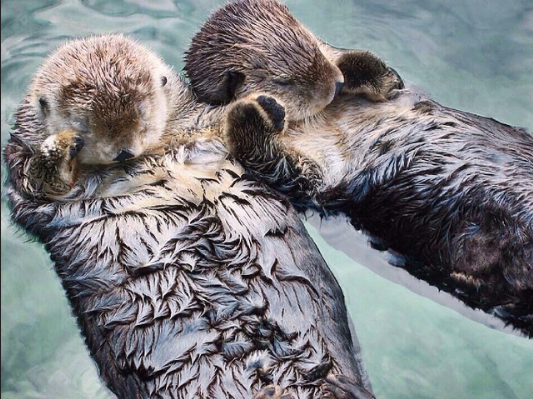 Thumbs Up: Spring Break is two weeks away! Whether you are going on a sweet vacation, or simply going home, I think we are all ready for SB 2019. We all need a break, but hey, only 14 days to go!
Well, that's a wrap. If you have any cute animal pictures, send them in. And hang in there, everyone! You got this! You can do it! Study hard, and do well! But even if you don't, it will still be okay.