An article published earlier today by Loyola's club, The Rival, has caused some disturbance among The Greyhound's editorial staff as well as the general student body. The article entitled, "Freshman Dies from Ink Poisoning After an Evening Out" is fashioned after the "We Remember" Campus Ministry emails that our community receives to inform us of the passing of one of our own.
By simply reading the headline, the news that a first year on our campus has passed away is alarming. Even while reading the beginning of the article, it seems to be real. However, as you read further, details emerge that turn a death into a joke.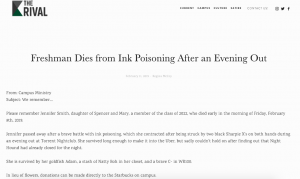 The Rival's official website states that it is "a digital opinion, commentary, and satire publication comprised of a network of college campuses." They aim to "publish bracingly creative, authentic, and intelligent content with a focus on general interest and campus news, entertainment, and college culture."
In addition, their mission is "to bring authenticity and modernity to campus media, and in turn, ignite a dialogue that inspires open thought and conversation amongst the student body."
While The Rival is not officially affiliated with Loyola, it is still a publication bearing our university's name and widely read by our student body. This article does not uphold the values of our university, especially that of "integrity and honesty."
Furthermore, this article fails to adhere to basic journalistic standards. The sensational nature of this piece is reminiscent of yellow journalism and does much more harm than good in its title's "clickbait" nature and overall mockery of a serious issue. According to The Rival's mission statement and description, it does not adhere to their standards either.
This article is far from funny and is in no way satirical. It is making a spoof of Campus Ministry emails that are sent out to encourage our community to keep those affected in our thoughts and prayers. These emails are always hard to read, especially for those who know the people affected. A fake "email" of this nature can be triggering to those who have lost someone from our community.
In the past few years, there have been at least three of these emails sent out that have commemorated  Loyola students who have passed: Michael Bagley '16, who went missing and was found dead six months after graduating from Loyola, Jimi Patrick '20, who was killed in the summer before his sophomore year, and Angela DeCarlo '19, who passed after a battle with cancer at the beginning of this academic school year.
Whether a piece's goal is to entertain or to inform, this Rival article does not uphold journalistic standards. Their editorial board failed to use proper discretion in choosing to follow through with this piece's publication. It is neither creative, authentic, nor intelligent, and does not consider the wellbeing of its student body.
Hopefully, The Rival will take this lapse in judgment as an opportunity to carry out the Jesuit values of discernment and a constant challenge to improve. We at The Greyhound thoroughly disapprove of this piece's publication and uphold our position as the official news source of the Evergreen campus.
                                                   Sincerely,
                                                  The Greyhound Editorial Board