A group of students marched into Boulder Garden Café at 5 p.m. on Monday to protest the recent suspension of Dining Supervisor Terry Peele.
According to a Facebook post promoting the protest, students believe Peele has been "punished for being (their) friend" with "little to no evidence of wrongdoing." The protest began with multiple students talking about their positive relationships with Peele and how he has improved their time at Loyola.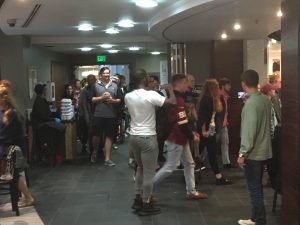 "Terry is our friend, Terry is our mentor, and Terry is more than an employee," Leila Asemani '20 said. These statements were followed by a loud chant by the crowd, saying "We stand for Terry, bring him back!"
As of today, Peele is not listed as a manager on the Loyola Dining website. There is an online petition hoping to bring Peele back as an employee at Boulder that has close to 500 signatures.
Video of the protest can be seen using the link below: