Kenny Jones Joins the 1,000-Point Club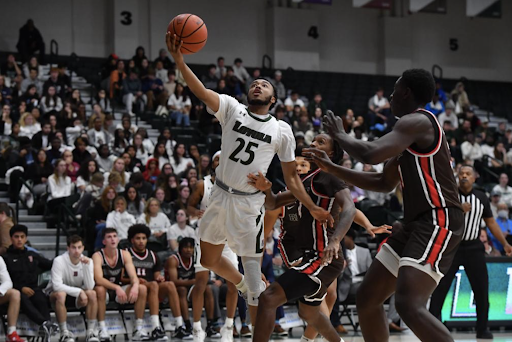 After making a three-pointer against Boston University on Feb. 4, Kenny Jones became the 41st player in Loyola Maryland's men's basketball history to score 1,000 career points. It was a big accomplishment for Jones. 
"I didn't get close to scoring that many points in high school so to do it now meant a lot," Jones said. "My teammates even gave me the nickname 1K Ken, so I was pretty happy." 
Jones is a graduate student, and because of the new eligibility rules, he was allowed to play an extra season after the 2020-21 season was canceled due to COVID-19. Earlier in his career, he played alongside the likes of Santi Aldama and Cam Spencer so he spent most of his time being the facilitator and getting his guys open. 
He said, "For pretty much all four years, I had a top two scoring Patriot League player so the bulk of the scoring wasn't relying on me and I was fine with that. I like being the facilitator but more towards the end of last year and going on to this year, I translated into more of a scoring guard with still more of that passing role."
Growing up, Jones idolized Rajon Rondo, a two-time NBA champion who was known for his crafty passes and ability to facilitate the offense. Many NBA fans have wanted Rondo to seek out a coaching job because of his knowledge of the game. 
Jones said, "I might try to go play professionally overseas [after the season is over] or I really want to coach, so I would love to go somewhere down that coaching route." Right now, he is staying in the moment as the Greyhounds still have two more games left to play until the Patriot League Tournament starts. 
He laid out his goals for the remainder of the season saying, "I want to try to be the best leader and player on the team that I can be. I'm the oldest guy that plays so I want to try to help our guys get better every day so that we can get back to that Patriot League Championship that we got to two years ago. That's my main goal." With a great head coach like Tavaras Hardy, that goal can become one step closer this season. 
Jones expressed his gratitude by saying, "[Hardy] helped me build my game for the last four to five years. I love his offense. With the right guys in it that we have, it really gets the ball moving and gets it in the right guy's hands at all times and gets guys in the right spots to where they can succeed." Jones will look to keep adding to his points total through fast-paced offense. He gave insight into his favorite go-to move during a game. 
He said, "I love the pick and roll and getting my guys involved but my favorite dribble move into a shot is a between-the-legs step back for a jump shot."
Jones' next opportunity to show off his skills will be Wednesday, Feb. 21, at 7 p.m. as Loyola faces the Holy Cross Crusaders here in Reitz Arena. 
Featured Image Courtesy of Larry French.