Whether watching reruns on the TV with family or binge watching it on Netflix, "Gilmore Girls" has influenced many people throughout its beloved seven seasons. The show brought many moments of tears, happiness, and laughter and instilled family values as it chronicled single mother Lorelai Gilmore raising her only daughter Rory.
With each new season came new situations and experiences that almost every family goes through, covering everything from relationship drama to community involvement to family struggles, to the transition to college. The show ran from 2000 to 2007, airing 154 hour-long episodes over the span of seven seasons. Recently, Netflix  announced that "Gilmore Girls" is coming back and will be airing later this year, and although they haven't given a specific release date yet, many are speculating sometime in the fall or winter.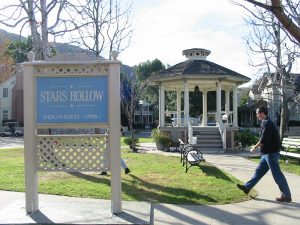 Rather than hour-long episodes, the Netflix revival will air four 90-minute-long "movies" or episodes that will continue the adventures of the Gilmore family. These episodes will be directed by the original creators of the show, Amy Sherman-Palladino and Daniel Palladino. Each episode will take place in a different season of the year and will begin eight years in the future from where the show last left off. Stars Hollow, the town in which the series was set, was rebuilt especially for this revival. Hopefully this new mini series will answer the questions that have tormented the show's loyal viewers since the seventh season finale, such as whether or not Lorelai and Luke will actually get married .
Most of the cast members from the original series are also coming back to town for the revival A few of the characters that will make a reappearance include: the Gilmore Girls themselves, Lauren Graham (Lorelai Gilmore) and Alexis Bledel (Rory Gilmore), Lorelei's love interest Scott Patterson (Luke Danes), best friend Melissa McCarthy (Sookie St. James), as well as all of Rory's past loves including Jared Padalecki (Dean Forester), Jess (Milo Ventimiglia) and Logan (Matt Czuchry).
New appearances will also be made, featuring stars from ABC Family shows including Sutton Foster and Stacey Oristano  .Sutton Foster starred on ABC's short-lived "Bunheads" and will a struggling actress who scores the lead in the Stars Hollow musical. Stacey Oristano  played the shopkeeper Truly on "Bunheads," as well as had a small part in the series "Friday Night Lights". For anyone who watches Lauren Graham as Sarah Braverman on "Parenthood," it will be interesting to see her other TV daughter Mae Whitman make an appearance on the revival as well.
Although there isn't much information on the specifics of each episode quite yet, the "Gilmore Girls" revival promises to be a wonderful continuation of the show that has touched the hearts and emotions of many . Viewers will get to see Rory all grown up in the real world, continue to follow the long-awaited relationship between Lorelai and Luke, and see what crazy activities the town of Stars Hollow has planned next. This Netflix revival is definitely one of the few things that Mrs. Kim would approve of!
Feature Image: Michel ABASSI SITTIG Photo, Courtesy of Flickr URL