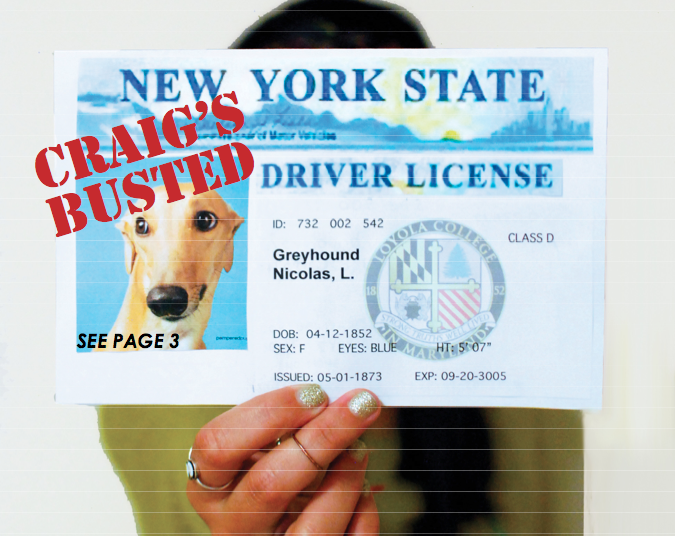 Four officers from Loyola University's Campus Police were posted outside of Favorites Pub on Thursday night, December 5.
"We got to the bar at around 10 p.m.—no one was really there, which we thought was kind of fishy, but we sat down," said an anonymous Loyola student.
At approximately 10:45 p.m., Loyola Police officers and a lieutenant of the Northern District Baltimore City Police Department entered the popular undergraduate bar and retrieved 15 underage patrons with fake IDs, 12 of whom were Loyola students. Each student was issued a $250 fine and must complete an educational program offered by ADESS (Alcohol and Drug Education and Support Services). As for BCPD's sanctions, the students were charged with a traffic violation for carrying fictitious identification. All offenders received court dates, and failure to appeal could result in an arrest warrant (since altering government documents is also a federal offense).
This raid of the infamous Craig's bar was the first casualty in what will likely become a pattern now that Loyola Police and BCPD are entwined in a partnership. But law enforcement isn't the only component in the alliance; representatives from the police, universities and bars have been coalescing since October to address neighborhood concerns and an escalating pattern of underage drinking in the city.
"What can we do to put a little more effort, a little more fear in students that if they are underage and have fake IDs, they could get checked at the bar by someone other than a bouncer?" asked Colonel Timothy Fox, director of Public Safety at Loyola. It might sound harsh, but Fox explained that if a student is compliant, this system is less painful than being carted down to Central Booking by BCPD.
Anonymous said he was the first student to hand over his fake ID. "I personally never get in trouble—I'm usually a good kid," he said, explaining that most of the students resisted giving up their IDs, even "sassing" the officers and provoking threats to take them downtown.
After BCPD collected their IDs, Loyola Police brought the 12 students back to the campus station for an hour and a half meeting. Some of the students who were less distraught decided to take Snapchat videos in the station. "I just sat there and I was like wow, this sucks," said anonymous. "I really love it here [at Loyola] and I don't want to go on academic probation."
While the maximum sentence for the students' traffic violation is a $500 fine or 60 days behind bars, under other violations, there's a risk of license suspension or up to 12 points. "I feel like I'll probably end up with a fine and required community service," said anonymous.
Some of the involved students have chosen to take a public defender for their case, but anonymous is getting a lawyer, hoping to dismiss the charges from his criminal record. He actually contacted Loyola's attorney for a recommendation, and he's paying all the fines himself and splitting the lawyer's $1,000 fee with his parents until he can reimburse them. His Maryland court date is February 13, and thus far there have been no charges from his home state or the state his fake ID was from.
"I think it was handled in a fair way. You have to own up to it and say I know what I did was wrong," he said. Anonymous said he is able to handle the situation now, but it was challenging during finals week. He knows that one student involved transferred out of Loyola. However, while students are more anxious now, the bar-hopping hasn't dwindled. "A lot of my friends still go to Craig's, Murphy's and Maxie's," said anonymous. "I haven't gone out since. I'm not going if I don't feel comfortable—probably not until at least after my court date."
Legal ramifications are quite real, but so are social pressures. "Go out, man up—it's not going to happen again, you were unlucky," is some of the feedback anonymous has received from his peers.
"I don't want to generalize, but it seems like the first-year class's perception of Loyola's social life is skewed toward the idea that the whole school is going out every weekend," said Vicky Miciotta, a senior Messina Evergreen. "I think people forget that you always hear about the loudest people rather than the quieter folks staying in or going to campus events."
According to Fox, the possibility is high that there will be another joint Loyola-BCPD raid in the coming weeks. "I wouldn't venture to say where, but likely not Craig's again," he said, though BCPD allegedly busted Craig's independently last Friday night. The next target could be Murphy's, it could be Zen—it could even be Power Plant.