Bryan Stevenson outlines strategies to build a better world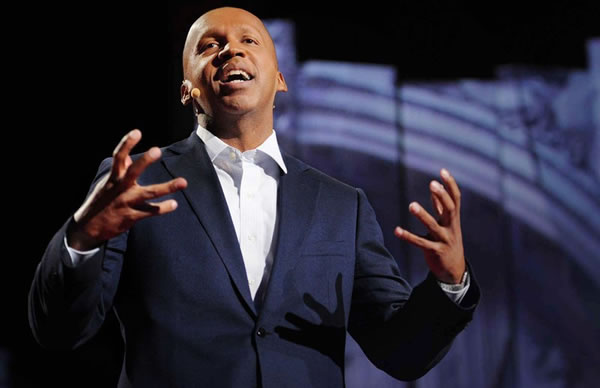 On Monday, March 19, Loyola was visited by Bryan Stevenson, the author of this year's Messina common text, Just Mercy. Stevenson is also a public interest lawyer and the founder and executive director of the Equal Justice Initiative (EJI). The EJI is an organization that fights to end mass incarceration, increase racial and economic justice, and protect human rights in the United States. Stevenson has been a recipient of the MacArthur Genius Grant as well as the NAACP Image Awards for Best Nonfiction Book. He was one of Time's Most Influential People in 2015, and he served on the task force of twenty-first century policing under President Obama.
The lecture opened with Mike Puma, the student development co-director of the Messina Program, introducing the event and noting that the lecture had to be moved from its original location of McGuire Hall, which holds six hundred people, to Reitz Arena, which holds over two thousand, due to the unexpected interest in event. Looking around, one could see that the change of venue was warranted. The rows of folding chairs that stretched from the stage to the arena's back doors were completely filled as were all but the top rows of the bleachers. Stevenson's lecture drew not only Loyola students, but members of the community who were interested in his message of peace and justice. One group of women had traveled from Alexandria, Virginia just to see Stevenson speak.
The warmth and interest of the crowd toward Stevenson was communicated as soon as Stevenson stepped onto stage and was welcomed with a standing ovation. Stevenson addressed the crowd in a friendly manner to inform them of his ambitious yet optimistic goal for the evening: discuss what everyday people can do to change the world.
He spoke about the problem of mass incarceration in America and the need for us to try to fix the problem. According to Stevenson, the United States has the highest incarceration rate in the world with 2.3 million people, out of the United States' population of 327.4 million people, being incarcerated. According to a prediction from the Bureau of Justice, one in three African American male babies is predicted to go to prison at some point in his life, and one in six Latino male babies is predicted to go to prison.
These statistics have real life effects on members of African American and Latino communities. Stevenson told the audience, "I go into communities, and I sit down with twelve- and thirteen-year-old boys and girls, and I try to have an honest conversation with these children. When I have an honest conversation, many of these children will say, 'Mr. Stevenson, I know I'm going to be in prison by the time I'm twenty-one. I have to go and get mine while I can.'"
But Stevenson did not only want to speak on the problems that existed. He wanted to address possible solutions, specifically the four things he believed would help everyday people change the world.
The first strategy was to get closer to those affected by injustice in order to create justice. Stevenson refuted the idea that one needs to have answers to a problem before they get close to the problem, and challenged the conventional wisdom that people should avoid the bad parts of town. "It's only in proximity that we can begin to understand what we need to know," argued Stevenson. "The answers come in service."
The audience broke into applause as Stevenson reminded the crowd that "we cannot just stay on Loyola's campus if we are going to change the world."
The second strategy is to change the narratives that underlie the important issues of the day. Stevenson used America's war on drugs as an example. In the 1970s and 1980s the United States government decided that those who were addicted to drugs were criminals. This is contrary to how alcohol addiction, which was considered a health concern, was viewed. This criminalization of drugs was part of what Stevenson deemed as the creation of a  narrative of fear and anger. Stevenson noted that narratives of fear and anger not only applied to the narrative of drug addiction but to race as well. He then asserted that if people must discard narratives of fear and anger if they are to create a more equal and just world.
Stevenson's third strategy was to stay hopeful: hopeful that things might change. "Hopelessness is the enemy of justice," said Stevenson. Real change cannot happen unless people maintain their hope that change will one day be affected.
His final strategy was to be willing to do uncomfortable things, noting the reality that nothing can be accomplished if we are not pushed beyond our comfort zones. Stevenson noted that venturing into area of discomfort forces one into conflict with things that are broken. Stevenson did not hesitate to speak about the broken things that he's encountered. He spoke about the broken people he represented, the broken system that he works within, the broken society we live in, and how he himself is broken. "It's the broken among us that can teach us how justice is supposed to work."
Stevenson ended his lecture with his concerns over what's happening in the United States. "I feel like they're putting grace on trial in the United States. I think they're challenging the power of redemption. It's like we've given up on forgiveness and mercy," said Stevenson. However, Stevenson expressed his confidence that it's possible to change what is happening. He emphasized the need to embrace opportunities when they present themselves, follow the strategies he has outlined, and ultimately work toward a better world.
Leave a Comment