In 1969, one Loyola freshman walked into a composition class taught by his first-year advisor, Dr. Thomas Scheye. Little did he know, that class would change his life.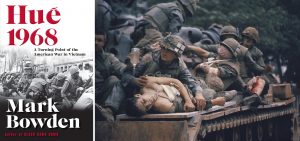 Mark Bowden, well-known news correspondent, best-selling author of "Black Hawk Down: A Story of Modern War", and former Editor-in-Chief of The Greyhound, returned home to his alma mater on Feb. 22 to discuss his new book and to join in conversation with Dr. Scheye in front of an audience of students, faculty, veterans and alum. The event was sponsored by Messina.
Bowden's new book, "Hue 1968: A Turning Point of the American War in Vietnam," brought up tension and mixed feelings surrounding the topic of war as some guests shared opinions during the Q&A part of the lecture, including a history professor, who was against war, and veterans, who shared their experiences and responded to the professor. However, it did not stop Bowden from sharing his story.
The 1973 graduate of Loyola recalled going to a meeting for The Greyhound (which at that time was published as a bi-weekly paper) and being the only one to show up. He contributed drawings to the paper until the editorial leaders at the time graduated.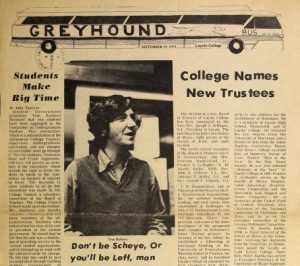 "When everyone was gone, I was left as the editor," he said. "I changed the name of the paper to The Greyhound Bus Company just for fun and honestly published the worst paper ever." While he initially began as an English major, his father told him he would not make a living as a writer and that he should attend law school.
However, Dr. Scheye, who is now a Loyola Distinguished Service Professor and senior advisor to the president, encouraged Bowden to continue writing.
Bowden knew he wanted to be a writer, he just did not know how to get there.
"After college, I was hired by the Baltimore News American and then joined the Philadelphia Inquirer in 1979 where my writing gained traction," Bowden said. "I started as a reporter, but then turned to long-form journalism."
He thought of writing plays, novels, or poems since it is what he studied in school, and at the Philadelphia Inquirer, Bowden always wanted more time and more space for the stories he was covering. He then began to write serials in magazines and the paper.
"I've been able to pull it off ever since—to my delight and amazement," Bowden said. "But I learned as a newspaper reporter to be professionally curious. I had real questions about things and started thinking, 'Well, how can I write about that?'"
After covering a story about drug king Larry Lavin that never went to print, Bowden became more interested in the topic and expanded the questions he had. His experience in journalistic thinking led him to write his first book, "Doctor Dealer" in 1987.
"The New York Times said it was 'almost brilliant,'" Bowden said.
Bowden's other New York Times bestseller, "Black Hawk Down: A Story of Modern War", was also written due to questions raised in his mind after the 1993 Battle in Mogadishu. With the help of the Inquirer, "Black Hawk Down" was first published serially and eventually as a novel. It was eventually made into a major 2001 film of the same name, which received Academy Award nominations for Best Cinematography and Best Director for Ridley Scott.
Bowden said, "It is always a struggle for me to do the things I wanted to do because what I do takes a lot of time. But once you become a best-selling author, magazines wanted you to write for them. I got the opportunities to write screenplays and to choose what I wanted to do."
When writing, Bowden said he abides by the basic principles of there being two sides to every story and that one does not know enough until they have sought both sides out and listened.
"You can't write a true novel of an event without immersing yourself in the people and culture," he said. "But no matter what, I am still trying to get better. It is a lifelong quest to become a good writer."
For each book, there is a lot of travel, time and interviews involved from all perspectives. In his new book specifically, Bowden spoke to surviving American soldiers from the Vietnam War, as well as surviving Vietnamese civilians and soldiers. Hearing from all perspectives, he said, has been the most interesting part.
For those interested in pursuing writing or reporting, Bowden encouraged them to actively pursue it. He even gave them some advice: "Always be working on the most ambitious thing you've ever done. If you are always doing something you aren't sure you can do, you may fail, but you will continue to grow as a reporter and writer," he said. "Don't ever think you aren't doing something valuable because you are. You just need to challenge yourself and not ask permission because you have to go out and do the things you want to do and get published."
Another article by the Loyola Magazine publication covering Bowden.