"Imagine in five seconds, you no longer had access to anything you know. You can't text or tweet, and you are totally disconnected," Mary Quinn, the Sister Mary Cleophas Committee chairwoman, said. "You are powerless to change this because you can move no more than 10 feet and the world outside the area is lost to you. You won't return to the world you know for nine months."
On Oct. 12, Quinn used this imagery to prepare the audience for Elizabeth Smart, the keynote speaker for the Sister Cleophas Costello Lecture, to share her story. Smart, who in 2002 at the age of 14 was snatched from her home at knifepoint in Salt Lake City, Utah, and spent nine months held captive.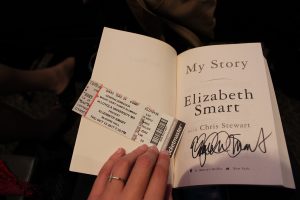 Quinn introduced Smart as a resilient and accomplished young woman who that terrified 14-year-old has since become. Quinn said Smart is "an advocate of change, who has used her celebrity and experience to advocate for women and children."
Smart founded The Elizabeth Smart Foundation to "to empower and protect children, promote educational resources and trauma support for victims and families," according to the foundation's website.
It is because of Smart's advocacy work that she was selected to speak for the Sister Cleophas Costello Lecture, which began in 1971 when Mt. St. Agnus College and Loyola University merged. The lecture series was started in honor of Sister Mary Cleophas, president of Mt. St. Agnus College from 1953-1968. The lecture celebrates Cleophas' and shows prominent women in society. This year, the lecture has partnered with Loyola's School of Education, to help further celebrate the life and legacy of Sister Cleophas and further promote the lecture. Also, this year the lecture sold out with 700 people from Loyola and the surrounding community.
"There is something we all have in common, we all have a story," Smart said. "They are all different, but we all have something in life that happened to us or will happen to us that will be a struggle. There have been or will be times when we feel like we need to surrender. But it's not what happens to you that defines who you are, but the choices you make afterward that define who you [are]."
The day Smart was kidnapped, she had been excited about a trip to Beaver, Utah, with a friend. It was the day before her middle school graduation. Before turning in to bed, her brother was teasing her about going to Beaver, calling it boring. As she turned away she said, "What if those were the last words you said to me?".
That night, in the bedroom she shared with her younger sister, she was taken from "the safest place in her world."
"Nothing about that day was different than any other day. While I felt like I was one who was knowledgeable about safety, no one prepared me for what to do when something threatens to kill you and your family. So, I just went with him," she said.
As she was going through the house, she felt excited, or hopeful, because when the door in her house was opened, an alarm would go off and her parents would save her. However, the alarm didn't go off, as the magnets in the frame and the door, which would have triggered the alarm if separated, had fallen out and no one realized or knew about it.
"It was sheer bad luck," she said.
As she was being led up through the mountains, her captor pushed her to the ground. A police car had driven by and had not seen her. More bad luck.
After walking and crawling through the mountains all night, her captor took her to a campsite where a woman, Wanda Ileen Barzee, was waiting. It was here where she was held captive, chained to the ground, and only allowed to move to the tent and to the bucket, which served as a makeshift bathroom.
It was here that her captor told her she was now his wife.
It was here that Smart tried to stop her captor from raping her by saying she had not even hit puberty yet, and where Barzee said that her age didn't matter.
It was here where a 14-year-old girl was raped. Multiple times. Sometimes multiple times a day.
Having come from a conservative Christian family, Smart described the moment of her rape as worse than being dead. She was told not to have sex before she was married, making her assault even more devastating.
"I was violated in the worst possible way. I felt worthless, like no one would want me now even if I survived this living hell," she said. "I wanted to be those kids who did not survive these ordeals because no one could hurt them anymore."
However, she realized that her parents would still love her no matter what. That God would still love her no matter what. And those two facts were enough and worth doing whatever it took to survive. It was something her captors could not take away from her.
"It doesn't matter what anyone does to you. No one can take your value away," Smart said. "You are born with value and will die with value. Unless you rape or hurt or kidnap a child—then you can rot in hell."
As the months passed, she was told she needed to listen to what her captors said or her family would be killed, that she was rescued from her real family by her captors. She was also forced to dress in disguise and was moved between California and Utah.
After finally being found, her mom gave her advice that has shaped her life. She told her what those people have done to her was horrible, but the best punishment she could give them is to be happy and to live the life they tried to stop her from having.
Smart said she does not feel sorry for herself and doesn't pity herself because had it not happened, she wouldn't have been able to meet the people she has met or been involved in different organizations. She likes to think she would, but she is not sure.
"For that, I am grateful for what it has allowed me to do and the realization that one person can make a difference, and it is just everyday individuals," Smart said. "Because on March 12, 2003, three different individuals called the police and said, 'I think I just saw Elizabeth Smart.' So just know that the power of the individual is huge."
She closed with a hopeful message to everyone. "Whenever you feel like the world is crashing down, it may be, but don't give up because there is always hope, and you have the power inside you to make a difference," she said.