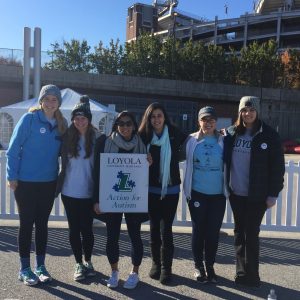 Over 70 Loyola students participated in the Autism Speaks walk in Baltimore on Saturday, Nov. 12. The walk was a loop around the Raven's M&T Stadium and Oriole Park at Camden Yards. The Action for Autism club raised over $3,300 and all of the teams at the event raised over $215,000.
Action for Autism represented Loyola with joy as they walked with other schools, children, and families who created their own teams that early Saturday morning. It was wonderful seeing the energy that all of the Loyola students showed as they walked the route and interacted with the rest of the Baltimore community at this wonderful event.
To kick start the walk, Loyola students stood in lines to create a blue pom-pom tunnel for all of the teams to walk through while screaming words of encouragement and getting the crowd pumped and excited.
"I participate in the Baltimore Walk for Autism because it is a space where I encounter and engage in a community working towards awareness, acceptance and integration of individuals with autism," Action for Autism president and senior Kelly McElroy said.
Other club members have more personal reasons for participating in the walk.
"My neighbor Allie has autism and she is one of the sweetest and most loving people I know, so I've always been passionate about making sure people are aware of the struggles people like Allie go through and just educating the general public on how best to interact with them," First Year Megan Lynch said, "I mostly walked this weekend for Allie and it was definitely so fun. You could see the passion from everyone at Loyola and all of the other walkers there."
The walk benefitted Autism Speaks, an organization whose mission is to provide solutions and support for families, raise awareness, understanding, and acceptance of autism, as well as raise money for research.
Some of its goals for the next 10 years include "a better understanding of the causes and typology of autism spectrum disorder, children having access to appropriate intervention, services, and resources immediately following diagnosis, people with ASD and their families have transition plans that result in more independent adult life that is meaningful, among several others" according to the Autism Speaks website.
At Loyola, Action for Autism is a club that, much like Autism Speaks, works to promote awareness and support for those with autism as well as their families and friends. As a club, they can often be seen running tables and events outside of Boulder, selling baked goods to raise money. This past Halloween, they had food and photo opportunities available with a beautiful puzzle piece blanket to take pictures in front of.
At meetings, they educate members about autism and the ways that it affects individuals with the disorder as well as their families and caretakers. Recently, graduate program director and associate professor in the Speech-Language-Hearing Sciences department Dr. Janet Preis spoke to students about awareness and the importance of education for understanding autism spectrum disorder (ASD).
"Loyola's Action for Autism club has given me the opportunity to be active in this community and has opened doors to new experiences, people and ideas," McElroy said. "The club's outward expression of looking beyond all differences and loving one another for what makes us unique brings me joy and fills me with excitement to continue taking steps in raising autism awareness."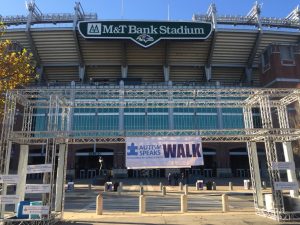 Participating and getting involved in these kinds of events are important, as they show our community that we care. There are so many challenges that people face throughout their lives and being able to stand in solidarity with others is one way to show that we are united in times of both the good and the bad. Spreading support, love, and inclusion is one aspect of the Jesuit tradition that all members of the Loyola community must always strive for.
If you would like to learn more about Action for Autism at Loyola, follow the club on Facebook: @ActionForAutismLUM.
All Photos Courtesy of Michelle Mencia