Bright lights, crazy dancing, and eclectic sound would be the best way to describe a performance by The 1975. This past weekend I took the hike up to Connecticut to see the British rock band perform live at the Mohegan Sun for a sold out crowd.
Going into the venue, I had high expectations, as I knew that the group, which consists of singer Matty Healey, bassist Ross MacDonald, guitarist Adam Hann, and drummer George Daniel, is acclaimed for putting on an entertaining show. Needless to say, I was nothing short of blown away. The evening began with opener 070SHAKE, an R&B artist from New Jersey, who hyped up the crowd before the main act.
The production of the show itself is like walking into an art museum. The stage is set up with long pillars and a screen that light up or flash different colors for each song, creating an exciting visual and the perfect Instagram photo opportunity.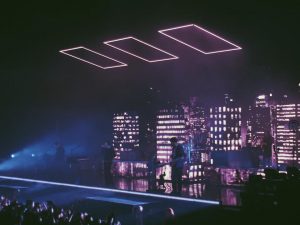 Throughout the two hour show, the band played a 23-song set list comprised of tracks off their two albums: "The 1975" and "I Like It When You Sleep For You Are So Beautiful Yet So Unaware Of It." Their sound is a mix of lyrical and instrumental songs, and they made sure to incorporate both in the set. Every fan was on their feet, jumping up and down during some of their biggest hits: "Chocolate," "Love Me," and "Somebody Else."
Apart from playing music, Healey made sure to continuously thank the crowd throughout the evening. At one point, he even went on to give a speech about the importance of voting, especially amongst the youth. He stressed how crucial it is for his fans to get out a vote because in the long run, every vote counts.
As the five-song encore was coming to an end, the group left the stage with their upbeat hit "The Sound." Healey had the entire arena jumping, pointing, and screaming along for the final few moments of the show. All in all, The 1975 put on a great show, and it is highly recommended that you give them a listen if you have yet to do so.
Or, check them out while they are still on tour! Tickets are available on Ticketmaster.
All Photos Courtesy of Marisa Ganley