The six of us gathered on the bank of a river, watching the water flow over the rocks. Trees surrounded us, gently shedding their red and yellow leaves in the crisp fall breeze. We felt as if we were in another world, miles away from Baltimore.
Except we weren't. We were a short 20-minute drive away from campus.
Yards away stood a large overpass, allowing commuters on the busy I-895 to speed right over us. A beautiful butterfly sat perched on a shopping cart that was slowly sinking into the sand, left behind by someone who discovered this little refuge long before we did.
Outdoor Adventure Experience (OAE) leaders and sophomores Hannah Loiselle and Abby Wilkes took me and three other Loyola students on the program's first urban day hike on Oct. 23, and it was an adventure that none of us will ever forget.
"The urban day hike provided students with a new way of experiencing the outdoors. It is exciting because at times it didn't feel like we were in a city at all," Wilkes said. "Our participants were really interested in learning about the surrounding area and recognized the connection between humans and nature."
We hiked through a public park that had been sold decades ago to be developed; unfortunately, it never was. Although it remains on the city's register of parks, the land was never officially reopened to the public. This means that although it is still accessible and legal to hike through, there has been no formal maintenance of the park's grounds. Despite being located in a city, it makes for the perfect place for a hike.
Hiking through the park was an incredible experience, to say the least. As a Baltimore resident, I am used to the popular city scenes like the Inner Harbor, Fells Point, and Federal Hill. I never thought that I would find something so beautifully different and unique so close to home.
The paths are overgrown, the tennis courts are covered in foliage, and the park's entrance is entirely closed off by nature. We all felt so small watching nature slowly reclaim its title from humanity.
Sirens raced off to some seemingly far-away emergency as we stumbled upon an old beaver dam. But that was not our only wildlife experience: Hawks and vultures flew overhead, foxes and deer darted across our path, and beavers began felling trees. We became so immersed in the nature that it was easy to forget we were still in Baltimore.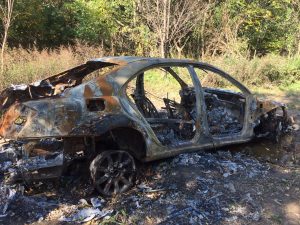 Easy to forget, that is, until we saw signs of humanity. This beautiful haven has also served as a sort of dumping ground for the locals' goods. An old box spring was left behind, and a broken piano was leaned against a tree. Most memorable was the huge skeleton of a car that had been burned.
The three-hour morning hike was the perfect way to jump-start my day, and to introduce me to OAE. I had always been interested in participating in the trips, but I was always intimidated. Now, after seeing how comforting and knowledgeable the leaders are, I want to try more of their activities. For more information about OAE, their trips, and how to sign up, visit their page here.
All Photos Courtesy of Angela DeCarlo