In a city of Greek food trucks and vintage clothing buses, a unique nomadic seller has been born of the Charm City art world: Bookish Baltimore. Bookish Baltimore is an artist-run bookshop on wheels that travels the city featuring small-press books, independent projects, and artwork by Baltimore locals.
The founders, Shannon Patrick, Christie Hayden, and Merrell Hambelton, came up with the idea in 2015 when they received the Launch Artists in Baltimore grant through Maryland Institute College of Art (MICA).
After a lot of prep work, they finally debuted Bookish Baltimore at the Prints & Multiples Fair this past April. Since then, the van has been a participant in a number of local events and projects such as Artscape and the Kids Safe Zone in Sandtown. Bookish Baltimore has also extended to the D.C. area for a Washington Project for the Arts exhibition and even up to New York for the Independent Art Book Fair last month.
This week, the van stayed local. Bookish Baltimore was parked on Oliver Street on Oct. 8 for the monthly Alloverstreet Art Walk. From the outside, the white and green van looks relatively plain. But if you climb aboard through the back door, you feel like you're standing in an art gallery.
The layout is sleek and simple: hardware floors, white walls, art hung on the wall, and a table presenting the work of Nicole Dyer and Juansebastian Serrano in their collaborative book, "Pre-Game." The book, which is made like an ambigram, shows the sketches leading up to the artists' final product. It's the pre-game to their art.
According to Dyer, who attended Alloverstreet Art Wark,  the founders at Bookish Baltimore are the ones who encouraged her to create her first book "You Ever Ruin Something Really Beautiful?" After she successfully sold copies through the van, she was happy to come back for a second project.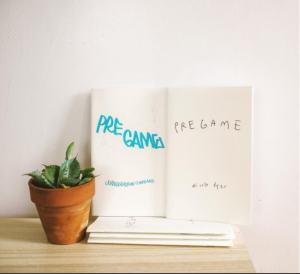 Bookish Baltimore has featured other art forms as well, such as photography and even wood work in the form of beautiful shelves hand-built by Chris Zickefoose, the head of operations. In the six months since it first opened, Bookish Baltimore has been successful in sharing the talents of dozens of artists and promoting sales. The funds from the bookshop have gone to supporting the expenses of the van, allowing it to be used for different events and workshops.
Cruising the city on four wheels, Bookish Baltimore continues to draw a new interest in the art book medium, spread creativity, and support local artists so that they can keep sharing their inspirations.
Photo Credit: All photos are from Bookish Baltimore's Instagram page