New York City's Central park was taken over by 60,000 fans on Saturday, Sept. 25 for the fifth annual star-studded Global Citizen Festival. Created by Coldplay's frontman Chris Martin, the free music festival serves as a "thank you" to the hundreds of thousands who take action to help make the world a better, safer, and healthier place, especially for those living in extreme poverty. This year, some of the biggest names in music took the stage: EDM star group Major Lazer, Demi Lovato, Ellie Goulding, Metallica, Kendrick Lamar, and Rihanna.
The show, which was aired on MSNBC, began at 4 p.m. when Major Lazer took to the stage to perform their hits like "Cold Water" and "Light it Up." The rave intensified when the group, which includes Diplo, Walshy Fire, and Jillionaire, brought out MO for "Lean On" and Ellie Goulding for "Powerful."
Up next was Demi Lovato, who was introduced by special guest Neil Patrick Harris. The former Disney star opened with her single, "Confident," sporting a diamond two-piece and thigh high boots. Originally set to perform was pop star Selena Gomez, who was replaced by Lovato after Gomez announced that she was taking a mental health break. Lovato put on an impressive show, and being an advocate for equality and women's rights, she was a perfect fit for the event and its mission.
The festival got better and better as the sun began to set. Metallica got fans hyped for the rest of the heavy metal band's performance after they opened with "For Whom the Bell Tolls." The group is known for their efforts to make the world a better place, making the group a perfect act for this festival. In an interview with Rolling Stone, lead singer James Hetfield explained, "I love nature. I love the wilderness, and there is not much more of it left." In addition to environmental awareness, the group has spoken up about and raised money for cancer and world hunger. The group closed their set with a classic: "Enter Sandman."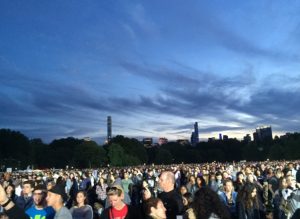 The second to last performer was rapper Kendrick Lamar, who had Manhattan dancing, jumping, and singing nonstop for an hour. Lamar is acclaimed for using his music to promote social justice and equality, which can be heard in songs from "To Pimp A Butterfly" and "Untitled Unmastered." While performing one of his biggest hits, "m.A.A.d City," the screen behind him displayed a montage of black icons such as Muhammad Ali, Don King, and James Brow. Lamar is a skilled performer who knows how to interact with a crowd and show appreciation for his "day ones," who he repeatedly thanked throughout the evening.
Barbados native and consistent chart topper Rihanna closed the show with a bang a little after 10 p.m. All 60,000 Global Citizens sang in unison to some of her biggest hits: "Work," "Diamonds," and "Needed Me." She is a true performer with powerhouse vocals, entertaining transitions, and impressive dance moves.
Over the past six years, Global Citizen has completed nearly 8 million actions to help resolve some of the world's biggest challenges including sanitation, hunger, education, and health. By 2030, the organization hopes to positively impact 650 million lives.
If you are interested in becoming a Global Citizen, you can register here.