The band Lukas Graham has recently become a sensation in the U.S., with their single "7 Years" climbing music charts. This touching song, has a pop-soul vibe and talks about the different stages of life that a young boy must go through. The Danish group just released their first worldwide album on Friday, April 1, which is a self-titled album consisting of soulful tunes that stay true to the group's calming vibe. The four-member band includes vocalist Lukas Graham, drummer Mark Falgren, bassist Magnus Larsson, and Kasper Daugaard on the keyboard.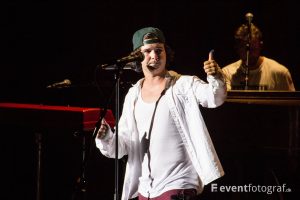 The album is unique as it acts as a collection of hits that the group has previously released, as well as new songs that had only been available in Europe. For example, "Drunk in the Morning" is a catchy tune that the band originally released on their YouTube channel during their beginning stages. The band's first album, released only in Europe in 2012, included hit singles like "Drunk in the Morning" and "Better Than Yourself (Criminal Mind)," which now appear on the worldwide release. The April 2016 "Lukas Graham"  also includes songs from the band's second album released in 2015, which was titled "Lukas Graham (Blue Album)" with hits "7 Years," "Take The World By Storm," "Mama Said," "Happy Home," "Don't You Worry 'Bout Me," "What Happened To Perfect," "Strip No More," "You're Not There," and "Funeral."
The collection of songs that make up this album are both uplifting and sentimental, and it's the perfect album to match any mood.  "Take The World By Storm" is an encouraging tune that leaves you wanting to accomplish more in your life. "Happy Home" reminds listeners of just how important family is to Lukas Graham and also highlights the ups and downs of life. "What Happened To Perfect" is one of the album's  sadder ballads about love slipping away, but it's just as beautifully composed as the more uplifting beats. Every one of the featured songs on the album is just as good as the last and leaves you wanting more as a listener. Check out the album today if you're looking for some new tunes to listen to.
Feature Image: Martin Jul Jonsson Photo, Courtesy of Flickr URL