During the summer of 2017, the Associate Director of Undergraduate Constituent Engagement
Charlie Hiebler '95, recent Loyola graduate Bobby Trosset '17, and the Office of Undergraduate Admission set out to reinvent Loyola's tour guide program, the Ignatian Society. Their combined efforts led to the creation of the Greyhound Ambassadors, a student-led university ambassador program.
According to Hiebler, the goal is not to simply be another club on campus.
"We want this to be a leadership organization for students," he said.
Greyhound Ambassadors assist in managing the campus visit experience. On all campus visits, there are Greyhound Ambassadors to help students and their families every step of the way. They greet visitors as they arrive on campus, assist with checking them in using Undergraduate Admission's new customer relations manager Slate, sit on panels, provide campus tours, and are student leaders during Open House events.
"Every visitor that comes to campus this year will engage with one or more of our Greyhound Ambassadors, and we typically see about 10,000 visitors a year," Hiebler said.
The ambassador program has been established alongside a decrease in tour sizes to ensure that every prospective student receives a personalized experience while on campus. Prospective students are able to meet and build relationships with their Greyhound Ambassador, which helps to give them the opportunity to clearly envision themselves as a Loyola student.
This goal is realized by the personalities of Greyhound Ambassadors, who are "passionate, committed, dedicated students that truly love Loyola and are able to express that to others," Hiebler said.
These students represent the best and the brightest of Loyola, as they are leaders on campus as well as engaged community members. Many of them already are leaders elsewhere on campus, like members of the Evergreen staff, Student Government Association (SGA), ALANA's Multicultural Awareness Program (MAP), and Green and Grey.
Hiebler hopes that with this new program, prospective students and their families will meet a lot of different students with different interests, giving them a better feel of what Loyola has to offer.
"The goal is to make the prospective student's visit memorable," Hiebler said
These modifications have been designed not only to affect the experiences of prospective students on campus, but also to give the ambassadors themselves crucial life skills as a result of the program's continuous training process and student-led design.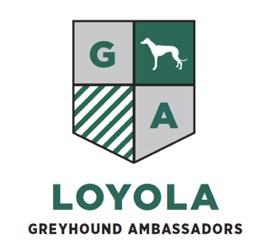 Greyhound Ambassadors is overseen by an executive board made up of nine juniors and seniors. Each member is then the chair or co-chair of one of five committees within the organization. Currently, the committees include training, events, communications and marketing, transition, and recruiting, with about 10-15 ambassadors working within each committee.
"Within a month you really learn so much," Greyhound Ambassador and executive board member Paige Rohde '19 said.
According to Hiebler, Greyhound Ambassadors are building skills such as public speaking and thinking quickly on their feet, as well as gaining experience in sales and marketing techniques. For him, practice building these skills will give the ambassadors a sense of confidence that could help them after Loyola.
"They're learning skills that they can take with them," Hiebler said.
Greyhound Ambassadors are working to create a new level of engagement between current Loyola students and prospective students and their families. Now, being a completely student-led organization, the Greyhound Ambassadors have created new ways for students to be engaged in their community and ultimately represent Loyola as far more than simply your average tour guide.
For Rohde, this new design has made the program is much more impactful than its predecessor.
"The big reason I joined last year was because I wanted to be a part of a family's decision, and this year has been 100 times more meaningful," she said.
She explained that the positive influence a Greyhound Ambassador can have on a prospective student's experience during their limited time on campus can ultimately be the determining factor in their decision of where to spend their next four years.
However, Heiber and the rest of the Greyhound Ambassador creation team hope to see the impact of the program reaching further than just to prospective students. They want the group to spur a tradition of student involvement on behalf of the university, so that as years progress, there will be a more consistent culture of student engagement.
This, in turn, will also develop a tradition of alumni working with Admissions after they graduate from Loyola. A network of Greyhound Ambassador alumni, who are dedicated to the growth and progress of the University's Admissions program, would be available for both prospective and current students to contact as resources in years to come.
The pivotal role and influence that comes with this leadership opportunity is the reason Admissions felt it was necessary to reimagine the program and increase the selectivity of the application process.
At the start of the fall 2017 semester, the Admissions interviewed over 100 students. Unlike previous years, these students had to complete an in-depth application and an in-person interview with Hiebler himself.
Even with a staff of around 80 student employees and volunteers combined currently working as Greyhound Ambassadors, the organization continues to recruit high caliber students.
Hiebler encourages students to submit an application in the spring to join the Greyhound Ambassadors for the 2018-2019 academic year to "make a difference on campus through the greatly appreciated meaningful and intentional work of the Greyhound Ambassadors."