Does studying abroad really have to cost you thousands of dollars?
According to the Office of International Programs, more than 60 percent of students study abroad each year, and with studying abroad comes the question of budgeting and financing this experience.
As students consistently worry about being able to keep up with the expenses that come along with living in a country abroad, whether it be for a summer, a semester, or a year, there are several things they can do to control their spending.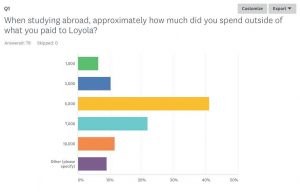 And as Assistant Director in the Office of International Programs Kenneth Kwarciany often says to students, "You do not need to spend a lot of money to have a good time."
Kwarciany's first tip is to create a budget before you leave. According to him, it is important for students to sit down with their parents and determine a feasible amount of money they can spend while abroad.
In a recent survey of 78 students who have studied abroad, approximately 63 percent of students said they spent between $5,000 and $7,000 outside of tuition and fees paid to Loyola.
Whether prospective study abroad students find this amount to be financially feasible or not, it is a beneficial figure to keep in mind when crafting one's own budget. However, it is important to remember that every student's experience is unique.
"Try to base [your budget] off what you want your experience to be and not what everyone else's experience was," Kwarciany saud.
Such was the mindset of Nicole Postighone '18, who studied abroad in Copenhagen, Denmark in the spring of 2017.
"When looking at my accounts before I went, I thought 'What do I really want to get from my six months in Denmark?' and the answer was memories. So, I put money towards activities and food with less going to online shopping and trips I was less enthusiastic about," Postighone said.
Some students may want a grander experience abroad, and as travel becomes more accessible, it is not surprising that nearly 67 percent of students surveyed said they spent the majority of their budget abroad on travel expenses.
While students may be quick to set aside the majority of their budget for traveling, it is important that students also take into account the money they will want and need to spend on other imoprtant items such as food, activities, and souvenirs.
Kristen Doyle '19 will be studying abroad in Copenhagen, Denmark in the spring of 2018, and has been planning out her savings for the trip.
"I have been saving 20 percent of all my paychecks for abroad. Once I'm there, they have [an orientation] session on budgeting money abroad, which I will definitely need to attend. I think most of my money will be going towards food and travel, so I'll just need to make sure to have enough for that," Doyle said.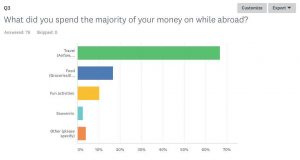 Postighone recommends that students keep up with the exchange rates, especially when choosing their program, as these change frequently and can greatly influence the costs one might incur while traveling abroad.
For example, if a student is looking to spend less money while abroad, they might want to consider choosing a program in South America, Africa, or Asia, where the cost of living is much less and the U.S. dollar is much stronger, ultimately allowing students to get more bang for their buck.
Programs in Europe, Australia, and New Zealand, however, tend to call for larger budgets because expenses such as travel and food typically cost the same amount, if not more, than they do here in the States.
Kelly O'Shea '18 studied abroad in Bangkok, Thailand in the fall of 2016 and agreed with this tip.
"I definitely think going to a cheaper country helped with budgeting. I was able to spend less money on a day-to-day basis like my meals and spend more on traveling," she said.
However, with all this being said, Kwarciany explained that it is still possible to have an incredible experience abroad without spending thousands of dollars over-budget. There are endless things to do, no matter where you go, that will cost little or no money at all.
"Museums are often free, cultural things are often free, many places offer student discounts, and there is almost always something free going on on-campus," Kwarciany said.
These simple adjustments can really help students to save money even before they leave for abroad and can ultimately result in much less stress and panic financially.
"Do the things the university offers and research before you go," Kwarciany said.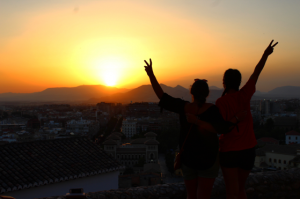 In his final remarks of advice, Kwarciany summarized that whether you are worried about finances abroad or not, it may be worth it to take the time to create a budget, consult with study abroad ambassadors, or even visit a program director or two at the Office of International Programs before you leave. There are plenty of ways to make sure you get the most out of your abroad experience as possible, while not having to drain your back account in the process.
Feature image courtest of taxcredits.net