The summer of 2017 was a busy one for Loyola, as the university embarked on a large scale construction project that culminated in a new second story to Boulder, and a modular building adjacent to the Diane Geppi-Aikens Field, which now houses the bookstore and the mailroom.
Expansion of dining hall, mailroom hopes to improve student life
The first floor of Boulder had the seating capacity for 300 students—something that Associate Vice President of Facilities and Campus Helen Schneider says was a major motivating factor for the renovation.
"If you're sitting there and see students coming in, you're not going to hang out. You're going to get up so that other students will have a place to sit and eat their meal," Schneider said. "It doesn't give you the opportunity to sit and hang out with your friends."
Director of Campus Services Jen Woods agrees. "Obviously we needed additional seating and additional food venues just to cut back on lines," she said.
The second floor of Boulder has new features, including three new dining stations, that Woods hopes will improve student life on campus.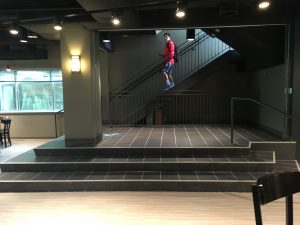 First, the expansion offers private dining spaces that are reservable through Event Services for students or student groups to have private dinners.
Second, longer tables provide greater collaboration space.
"There are long tables with digital signs. The digital signs can be linked to from your computer or your phone so you can work on presentations together and collaborate there," Woods said."And when you're not using it, it's digital signage."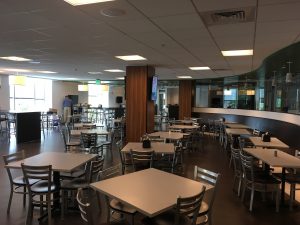 Third, the space features a performance stage. According to Woods, that space is entirely dedicated to the students, and is also reservable for use through Event Services.
"That space will be used just for student events for anything students want," Woods said. "Sometimes there's lectures and university initiatives that take space that maybe students want. This is a space specifically for students to use."
The three new dining options include a Mediterranean bar, an all-egg concept called Sunny Side, and a hot deli. These three options were selected based off a survey of students conducted by Woods and her office at the end of the 2016 spring semester.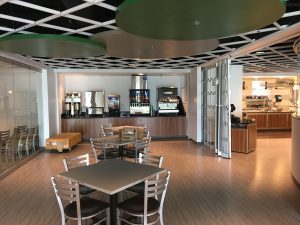 "One of the things we noticed that students like [was] if we did any kind of Mediterranean-type food on the salad bars, they tend to go quickly, so we wanted to try that upstairs," Woods said. "Breakfast all day kind of kept coming up, so rather than doing breakfast all day there was an egg concept, so all foods have eggs in some capacity."
The hot deli station was chosen simply to help alleviate some of the lines in the downstairs deli lines.
These new stations, however, are not yet open. While the second floor is open during All You Care to Eat dining for dinner and on the weekends, Dining Services is still waiting to meet with Baltimore's health inspector for the permits to serve food in the new space. The inspection takes place on Sept. 12, and Woods is hopeful that food will be served upstairs by the end of the
week.
The student response to the new Boulder space so far has been enthusiastic.
"I am so happy that there is more seating in Boulder and it feels like a modern college dining hall," Lindsey Arriola '19 said. "I can't wait to try out the new egg bar!"
Caitlin Cobau '19 agrees. "I like the modern feel of the upstairs in Boulder. The bright and friendly atmosphere transforms my gastronomical experience," she said.
To accommodate this new space, however, Loyola had to do some work, as the bookstore previously occupied the second floor of the student center. This is where the new modular building comes in.
The new building holds the bookstore and the mailroom, another place on campus that needed an expansion.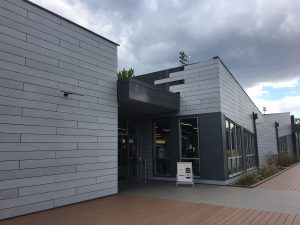 "The mailroom was very tight. They had no place for packages. So we just took the opportunity to say 'hey let's open up more space in the Starbucks area for students," Schneider said. "So it was all around creating more space for students to spend time and hang out and do your work and have more options for where you can study or socialize."
In place of the mailroom currently sits a wall of booths and temporary seating. The permanent furniture will be installed in the space by the end of the week, according to Woods.
Woods also plans on having a naming contest for this new area, as it isn't technically a part of Starbucks. She is also planning an official grand opening of the book store and the mailroom on Sept. 27, featuring food and giveaways. The grand opening of the second floor of Boulder will be held the following day with carnival food.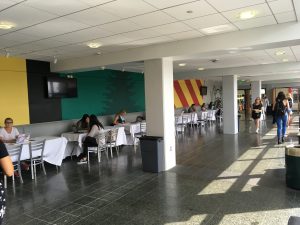 Additionally, a student forum will be held in October to gauge students' reactions to the new spaces and to bring to light any issues that need resolutions.
Ultimately, this entire project was designed to make student life better on campus.
"I just hope that students are inclined to spend more time just right here on the main part of campus and not feel like they have to go back to their apartments," Schneider said.
Woods agrees. "We just want students to know that we want to work with students and we want to collaborate. If they need dining to be open, let's have a conversation," she said. "If students want to have events in those spaces we just want to have a conversation and see what we can keep open."
"You can't believe how many people it takes across campus to make it happen"
This project, of course, did not just happen overnight. The project has been in the works in some form for at least two years now. The capacity to seat just 300 students was a problem even then.
"We did a feasibility study of some expansion options in the college center about two years ago. It took us about a year to go through the different scenarios," Schneider said. "We realized at the end of that feasibility study that expansion of that facility was going to be, No. 1 expensive, and No. 2 a lot of pain for not much gain—whenever you do construction and try to occupy the building at the same time, it's very difficult to manage."
The reality of undertaking such a huge project led to conversations about a strategic plan. The plan, which was finalized last year, calls for a new university engagement center. From this wider strategic plan grew a facilities master plan, which is currently in the works.
"Part of that will be an investigation of the long-term plan of facilities for the campus including where DGA is and where we might want to put this engagement center," Schneider said.
According to Woods, it is possible this new community engagement center will contain a completely new Boulder space.
While the development process of the master plan will probably take place over this academic year, Schneider said that the actual building out of the plan is typically a multi-year process. A short-term solution had to be found, namely expanding Boulder to the second floor and erecting the modular space for the bookstore and mailroom.
There is no saying yet how long the modular space will last before that university engagement center is built, so Schneider set out to make it as functional and as visually appealing as possible.
This entire concept was approved by the Board of Trustees in October 2016, leaving less than a year to design and construct the new spaces.
Baltimore-based architecture firm Hord Coplan Macht created a design for Boulder than was approved in November 2016. The contract for the construction was awarded in May, with demolition starting in mid-June, after the bookstore was moved to its temporary location of the Reading Room.
Modular Genius, a firm that specializes in modular and portable buildings, was selected to design the new building. They were awarded the contract in February, and the building was completed in mid-August.
It's been a busy few months completing this project before students returned last week, but Schneider thinks it's been successful.
"I think it's great. Whenever you move into a new space, there's always little things that didn't work out quite right, so we're just trying to make sure that [as] things come up [they] get addressed," she said.
She recognizes that this project would not have been possible without the help of many people.
"I'm [the one] talking about it, but you can't believe how many people it takes across campus to make it happen from Public Safety to Tech Services to our partners in Dining, Jen [Woods] in Campus Services, Event Services, Facilities," she said. "It really is an effort of many."