On Friday, Feb. 3, the Black Student Association (BSA) celebrated Black History Month with the presentation of Umoja. Along with the several other events planned to celebrate Black History Month, Umoja was a wonderful way for students and members of the Loyola community to get together to learn and celebrate black culture. Students as well as people from around the Baltimore community performed and spoke about many different aspects of African culture.
"Umoja is an annual event hosted by the African student association of ALANA services. Throughout the night there were various performances that coincided with African American culture. I even had the opportunity to go on stage a few times and show off my talents. It was a very enjoyable way to end my Friday evening" said Zalen King '19.
Umoja means "unity" in Swahili, and the night served as a time to grow in understanding and love of culture. BSA had several poets from around Baltimore speak to the audience about current topics such as police brutality, society's portrayal of black women, and several other issues of discrimination that people still face today.
Kappa Alpha Psi, a local fraternity dedicated to serving the Baltimore community, spoke about issues prevalent today such as racial injustice and inequality in the community and in the world. Students from the Towson step team performed at the event as well as several students from Loyola's dance company.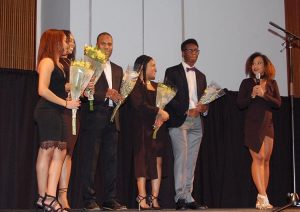 "Umoja for me means the coming together and celebration of Black/African-American people. Events like Umoja are important for me because we often don't have many events like this that celebrate the talents and accomplishments of students of color," Jordan Zolliecoffer '19 said.
Jordan also spoke on her performance and how she felt about the event: "I performed spoken word at Umoja. I have recently started performing my poetry as the message has amazingly impacted my audiences. This event wasn't different. I performed three pieces that night—all relative to the ongoing struggle of living while Black—as well as a piece dedicated to Black empowerment. I was completely honored when BSA asked me to perform. I wanted to do it because I'm all about speaking relatable truth as well empowering my people."
To give a sneak peak of the annual BSA fashion show that will take place on March 24, several students modeled and showcased their catwalk skills on stage to promote the event.
Along with Umoja, there are several events happening on campus sponsored by BSA in honor and to continue the celebration of Black History month. There will be a Black Lives Matter movie showing, a speed dating event, a movie night, a traffic light party, a Mirror Mirror: Body Image Launch party, and speaker Rasheed Ali. More information about these events can be found on flyers around campus.
February is a great month for members of the community to become engaged with the wonderful and diverse culture that lives on our campus.
All Photos Courtesy of Michelle Mencia