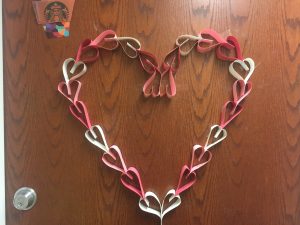 February is the time of year when you should be feeling the love, or maybe just the Loyola love. Whether you're single, taken, or not worrying about relationships at all, there are plenty of activities around campus to celebrate Valentine's Day the right way. So grab your flowers and chocolate, and head to the Quad!
If you haven't been living under a rock this past week, you might have noticed the tables outside of Boulder that have been selling Valentine's-themed items to be delivered to that special someone next Tuesday. Each table will still be there on Monday, Feb. 13, so be sure to get those roses and candy now!
The Black Students Association (BSA) has been selling candy that will be delivered to whoever you want. To match these treats, SGA has been selling roses at different prices: one rose for $3, two roses for $5, and a dozen roses for $25.
If you're not into the typical roses and chocolate, you can have Valenchimes – a personal concert performed for you wherever and whenever you want. For only $5, you can deliver a mini-concert of two to three songs sung by the boys of the Loyola Chimes a cappella group. Who wouldn't want to be serenaded by their sweet voices?
"The Vagina Monologues," presented by Mosaic, will be performed on Feb. 13 and 14 in McGuire Hall. Tickets are $10, and all proceeds will be donated to the Family Crisis Center. This play is described as a collection of performance pieces that articulate stories of different women about their genitalia. It tells stories about sex, love, violence, and abuse.
The original one-woman show by Eve Ensler debuted 20 years ago, and was scandalous to audiences nationwide. It is even more relevant today with the spotlight on feminism in light of the Women's March. It is not to be missed.
On a similar topic, the Women's Center is hosting Galentine's Day on Monday. If you're an Amy Poehler lover, this is the perfect event. It will include coffee, donuts, games, and in tribute to Poehler's show "Parks and Rec," a waffle bar!
The Communication Studies honor society Lambda Pi Eta will also be having a Valentine's Day sale outside of Boulder on Monday, and proceeds will go to Relay for Life.
Students all over have been gearing up for the big day on Tuesday. I interviewed a few students across campus, asking about their plans. Here are some of the answers I received:
"What's Valentine's Day? I've never heard of it before! I'll be doing nothing at all."
"I'm going to have a Galentine's Day party with my friends. We're going to be drinking some boxed wine."
"I'm going to sit in my room alone and eat chocolate that my mom gave me."
"I'll probably just eat chocolate that my mom gave me, and maybe watch a movie. 'The Notebook' is always my favorite."
"I'm going to watch Netflix and eat chocolate by myself."
"Hopefully I can buy a Valenchime for my girlfriend, and I want to see if they would let me be the lead singer. That would be fun. I want to do a dance, too."
So, whether you are spending Tuesday with your significant other, or with your best friend Netflix, Valentine's Day will not be dull on campus.
All Photos Courtesy of Marley Scheld