The Pulse Nightclub Could Become a Permanent Memorial
The city of Orlando has discussed plans to purchase Pulse Nightclub, the site of the deadliest mass shooting in modern U.S. history, and turn it into a permanent memorial. According to a Refinery29 article, if the plans are approved, the purchase will cost $2.25 million, what supporters of the purchase consider a small price to pay for the 49 lives lost that horrific June evening.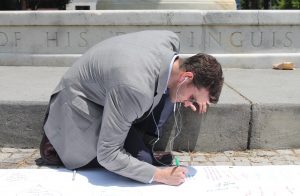 In the article, Orlando Mayor Buddy Dyer stated that regardless of the purchase decision, Pulse Nightclub will remain untouched for the next 12-18 months so that people from around the country and the world can visit the venue to pay their respects.
The article explains that the city believes that transforming the Pulse Nightclub site into a memorial is the best option "to secure it and ameliorate the negative effects on surrounding businesses."
Refinery29 also reported that commemorative objects, such as pride flags, flowers, and pictures of victims, that have been placed at the site are "collected and preserved by Orlando's History Center."
The Pulse Nightclub massacre is the most tragic event to strike Orlando soil, and the city has come together on many occasions and in various ways to show their support.
One show of support has been the creation of the onePulse Foundation. The non-profit organization was founded by the Pulse Nightclub owners. Their mission according to their website is to "provide financial assistance to the victims affected by the attack at Pulse Nightclub."
Pulse Nightclub's crowd typically brought in members of the LGBTQ+ community, and the city of Orlando has greatly supported this marginalized community after this tragedy.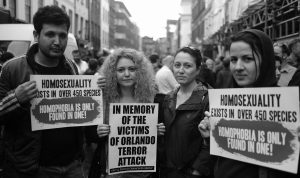 "[Pulse] has great significance not just for the LGBTQ community and for the Hispanic community but for all of us that live and love Orlando. I think that it is very important that the city take control of the site," Mayor Dyer said in a Twitter video post on Nov. 8.
Mayor Dyer went on to explain that he wants the Orlando community to have a great deal of input to determine what the memorial will look like and have to offer.
In the wake of its darkness, the Pulse Nightclub massacre is getting a shred of light. The Orlando community is hopeful that the site will eventually be transformed into a beautiful memorial to honor the beautiful lives that were lost and impacted by the massacre.
Feature Image: Exile on Ontario St Photo, Courtesy of Flickr
Leave a Comment
Your donation will support the student journalists of Loyola University Maryland. Your contribution will allow us to purchase equipment and cover our annual website hosting costs.