The Loyola-Notre Dame Library Gallery is currently holding an exhibit featuring artist Mary Opasik from Oct. 12 to Nov. 9. A Maryland Institute College of Art (MICA) graduate, Opasik is a well-established artist with nationwide showcases.
The exhibit is not hard to find: As soon as you walk into the library, you are greeted by two massive white display cases with her sculptures. I initially thought there would be a dimly lit room to find and walk through, but it was simply laid out in the lobby for everyone's enjoyment.
Had the art been on display in any other part of the library, people might not have noticed it was there at all. The prominent location of the art could spark curiosity and intrigue someone to stop and investigate.
What most likely happens is that an unfocused individual's attention is caught by interesting objects out of the corner of their eye. At first glance they might see a fish or a bird, but upon closer inspection, they would soon realize that they are looking at literal garbage. This is no exaggeration: Opasik transforms pieces of rusty scrap metal and weathered wood into beautiful pieces of art.
An information paragraph found on the first of the two display boxes reveals how these bizarre pieces of artwork came to be. Opasik tells us that she collects these junk pieces by picking them up off the street or in the woods while she walks her dog. She uses basic tools to piece them together: files, chisels, sanders, and saws. She breaks big pieces up to make them usable. Rivets, screws, wire, and the occasional braze are used to co
nnect and hold the pieces together.
She aptly calls the exhibit "Finding Meaning." She has found meaning in things thrown aside, things labeled as worthless and unwanted, left behind as nothing more than trash. Opasik collects these cast-aways and gives them purpose. The meaning she finds is making beautiful sculptures to be admired and used to inspire.
Her creations range from subtle to astounding. For example, the second display case holds a plain wooden rooster. There is no color: In fact, the bird has none of the defining facial features one would typically find on a rooster. There are no beak or eyes; instead, there is a relatively smooth body and a well-detailed wing constructed from furniture and handrail parts, wood, and hardware.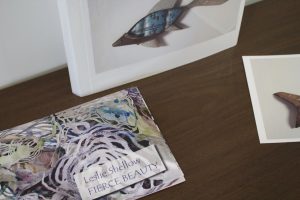 The most striking piece in the exhibit is her version of a human skeleton. It is displayed in the same way any skeleton in a high school biology classroom would be, except the body has a wooden skull and legs. The arms are tubes of discolored copper, and the ribs are made with bent metal scraps.
Opasik finds beauty in garbage by using it to craft rustic figures. It leaves you with the obligation to re-evaluate the material items that you use in your everyday life. Why do we assume worth at face value, when we can find meaning in anything?