The CMA Awards aired on Nov. 2, and on top of all the great music, deserving winners, and entertaining hosts, there was a lineup of celebrities dressed to impress, as well as a few that missed the mark. One of my favorite parts of any award show is watching to see who shows up in what to the red carpet, so here are my top five favorite looks at the 2015 CMA Awards.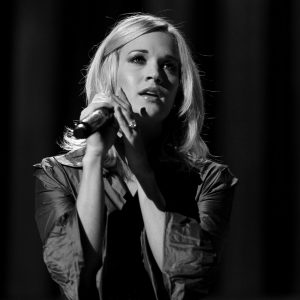 Carrie Underwood
Carrie dazzled in a beautiful Gauri+Nainika tangerine number complete with a flattering peplum top. Not only did Underwood pull off a gorgeous red carpet look, but the singer continued to impress throughout the night as she changed looks an astonishing 12 times during her eighth co-hosting stint with Brad Paisley.
Miranda Lambert
Miranda looked stunning in a curve hugging, black Versace gown. The edgy addition of the strap across the top took the simple black dress up a notch. The singer looked equally elegant and bold with her pink highlights while collecting her award for female vocalist of the year.
Kellie Pickler
Kellie looked beyond gorgeous in this royal purple Rubin Singer gown. Kellie was able to pull off the plunging neckline seamlessly, which worked in perfect contrast to the simpler bottom half of the dress creating the perfect look.
Kimberly Perry
The lead singer stunned in this sleek and asymmetrical black number. I loved how this look came together and how unexpected it was to see on the red carpet. Her straight and shiny hair and classic makeup worked flawlessly to pull the look together, helping Kimberly rock this risky number.
Kacey Musgraves
The signer-songwriter looked elegant in this teal design. Kacey's makeup effortlessly tied the whole look together giving off a vibe very similar to a classic, old Hollywood look. The dress fit her perfectly and did not disappoint.
Bonus: Maddie & Tae
I really enjoyed the golden numbers of this up and coming country duo. I think the two dresses complimented each other beautifully and brought a great youthful presence to the red carpet. Maddie and Tae both looked stunning and are definitely going to start popping up on some best dressed lists in the upcoming years.
Feature Image: ABC Television Group's Photostream, Courtesy of Flickr URL