The "Prisms" art show featured a semester's worth of work from 10 Loyola senior art students. Their pieces dressed the walls of the Julio Fine Arts Gallery and anyone was welcome to take it all in. 
Each artist described their own artistic process along with any obstacles they overcame to produce their pieces. One artist in particular, Maddie Chelak, shared her story of working through an artist's block. 
She said, "I went on a two-year artist's block… I think a lot of this came from the idea of perfectionism. When I pictured myself in a gallery, I always thought in order for it to be deserving it would have to be perfect."
Chelak was inspired by her Asian philosophies class and meditation. This led to a greater appreciation of the imperfect, and the creation of her final work. 
"I realized there was a lot of value in existing, and not working so hard," she said. "I started painting and exploring leisure with my work and this led to exploring the idea of getting the audience to do the same, and to appreciate the mundane."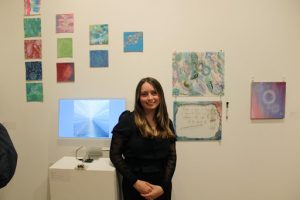 Art by Maddie Chelak
"Prisms" featured a variety of artistic mediums including digital art, sculptures, paintings, photography, and collages. The artists used many different tools to bring their pieces to life, even artificial intelligence (AI) technology used by Greyson Pearce. 
Pearce used a mix of new and old technology to create his work.
Pearce said, "I love technology in art and in general…I'm always trying to find a new AI tool or computer tool to make something interesting. But when I started taking film photography… I also learned to appreciate all these really old processes that I loved working with."
Pearce's appreciation of both generations of technology is evident in one of his main pieces. 
One of his photos was taken with analog film on a camera from the 1930s. After he ran the photograph through a high-resolution scanner, he used AI to color the black-and-white photo. 
The AI tool has scanned countless photos, learning to recognize characteristics that decide how something should be colored. By the end of the process, Pearce had a clear, colorful photo of his roommate, despite taking the photo without any color.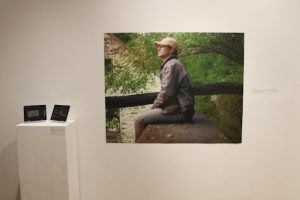 Art by Greyson Pearce
His roommate, Matt Spear '23, was impressed with his tech-savvy friend's final product. 
Spear said, "I think it's cool the way he did it. These aren't the original colors, it's colored by AI. I thought that was really cool because this is the color of the jacket I was wearing, the photo even has the blue of my jeans and captured that my hat was brown." 
After months of hard work, these students displayed their latest pieces while sharing their inspiration for their work. Taking questions at the end, the artists left spectators with a sense of understanding of their work and admiration of their passion. 
Natasha Reyes '23 said, "I find it very interesting how everyone finds inspiration from different things. We all come to school with different goals and art is something people are passionate about, and you can see the passion through their work." 
Visit the "Prisms" website here to see more art from Sadie Applegate, Evan Casas, Maddie Chelak, Randi Little, Siobhan McGeever, Lia O'Riordan, Greyson Pearce, Brooke Scottie, and Laura Yacoubi
Featured Images Courtesy of Eli Falconer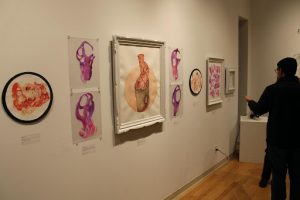 Art by Brooke Scotti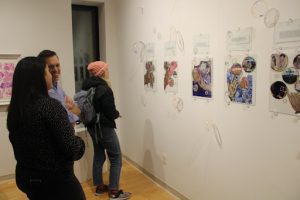 Art by Siobhan McGeever
Art by Evan Casas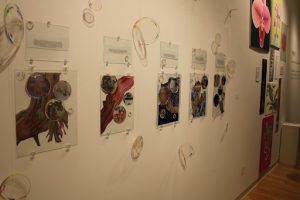 Art by Siobhan McGeever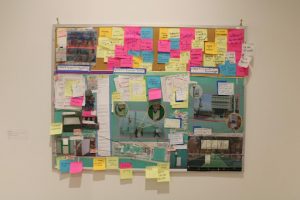 Art by Randi Little
Art by Sadie Applegate