Student Tutors Help Classmates to the Semester Finish Line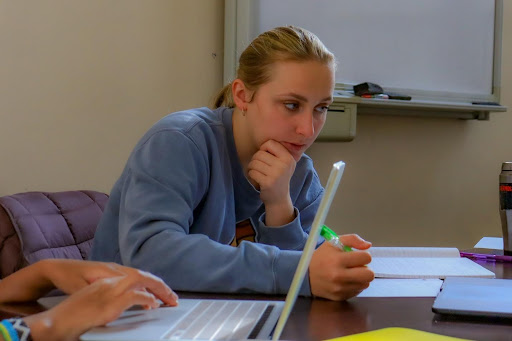 Struggling with a class?  One place that students can turn to for help, even in the last days of the semester, is the Loyola Study. The director of The Study, Molley Fredette, says it is a spot where students can come when they need help with their academic troubles.
"The Study's mission is to help students become successful and independent learners. We are a learning center that has been around for 18 to 20 years, about even before I came to Loyola," Fredette said.
As a learning center, The Study offers a wide variety of resources, mainly the professional and peer tutoring program. The peer tutoring program, which is nationally certified by the College Reading Learning Association (CRLA), offers over a hundred student tutors who hold faculty recommendations and are fully trained by their CRLA-certified program, and can only tutor in courses they have taken and excelled in. The professional tutoring program holds three distinct branches: professional math, professional English as a second language, and professional writing. The main focus of the professional program is skill development.
Other resources of The Study include academic, time management, organizational coaching, and academic success sessions for students who require them. It also provides a study space for students in need of something quieter than the library or their dorms.
"The first time I went to The Study was freshman year for my philosophy class. I remember having a paper that I had to complete and how I was told that if I did well in that essay, I could improve my grade," said Malcolm Kiiza '25. 
Kiiza had previous experience with The Study, going there when he needed assistance in passing a class. He says the resources offered by The Study had proven to be valuable.
"I find The Study to be a reliable source on campus. The tutors that are provided have taken the courses that I was taking and so they have a better knowledge of what I was learning and what I need to succeed. When I used to work with a tutor, she used to bring outlines that would help me connect my ideas together and made it easier to do my essay," Kiiza added.
 Kiiza is just one of many students of Loyola that have gone to The Study. According to Fredette, an average of 3,500 students come to The Study each semester in search of some sort of academic assistance, and the response of those visits are positive.
"We get a lot of positive feedback from students. It's a rewarding process here; we can offer support and guidance and help them get on track. Later, we get to hear back from them of how good they are doing," Fredette said. "I always encourage students to come as early as possible. It's better if they come as early as possible in order for us to support them."
The Study is located on the third floor of Jenkins Hall. It is open from 9 a.m. to 11 p.m. on Monday through Thursday, 9 a.m. to 4 p.m. on Friday, and 12 p.m. to 11 p.m. on Sunday. To schedule an appointment, visit The Study's official website. 
Featured Image courtesy of Enrique Muchacho.