In late September, Netflix released a new documentary on the life of pop artist Lady Gaga. Titled "Gaga: Five Foot Two," the 90-minute film follows Lady Gaga and her journey through creating her album "Joanne," which was released late October of last year.
Her full name, Stefani Joanne Angelina Germanotta, is the first clue we are given towards realizing how she named her album. We later find out about a family tragedy—Stefani was named for her father's sister Joanne, who died at age 19. Joanne was described in the movie as an artist, whose tragic death came after developing severe symptoms of Lupus. The connection to the name deepens as the audience learns that as Joanne's disease progressed, she developed lesions on her hands that prevented her from playing the music that she loved.
When Gaga plays the song "Joanne" to her grandmother and father, the emotional reactions from Joanne's immediate family explains how overwhelmingly deep and touching her lyrics are. She creates this album partially in memoriam to Joanne, to whom she relates as an artist, and recalls her most tragic yet powerful moments in childhood all revolved around the struggle of dealing with Joanne's death.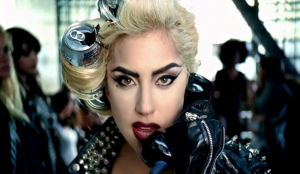 Artistically, the "Joanne" album moves from Lady Gaga's pop-electronic musical past and toward rock, folk, and country. The documentary heavily plays into this, focusing on the insecurity she expresses as she wonders if her fans will appreciate her album. Considering her provocative past in music as well as bizarre fashion sense, this album is definitely taking on a greater personal note. "It's scary because, you know, if they don't like it…well, it's my life," Gaga said.
Gaga is also open about her struggle with fibromyalgia, a disease characterized by widespread skeletal pain throughout the body accompanied with chronic fatigue and cognitive difficulties. There are many moments that feature Gage before or after media events lying on her couch in pain, sobbing and surrounded by masseuses to help mediate her physical pain. In this way, she can relate to the late Joanne as an artist who has faced brutal physical obstacles.
"I can't wait for you to hear. It's very personal in a way I just haven't been," Gaga stated at the release of her album. To any fan, this isn't news for her year-old album. But, the movie gives us perspective on exactly how she came to change and create music that seems so out of character for an iconic artist. More than anything, this was a story of growth.
"I don't think that the world was ready to see who I really am, because I wasn't ready myself," she said.
Featured image courtesy of Justin Higuchi