The lengthy line to enter Baltimore Soundstage curved and twisted as more and more fans showed up to see Carly Rae Jepsen take the stage on Sunday, March 20. Fans turned their backs to the snow that began to fall just minutes before the doors opened, and were grateful when they finally had the chance to step foot inside.
Jepsen's Gimme Love Tour, which kicked off performances in mid-February, made a stop at the intimate Baltimore venue to entertain a passionate crowd and get people dancing. The show began with two opening acts, the first of which was a Los Angeles-based trio named Fairground Saints, whose sound can most easily be described as folk-pop with a definite southern influence.
Through pleasant three-part harmonies, feet stomping, and plenty of hand clapping, the band quickly
gained the attention of the crowd and got them warmed up for the rest of the night. They opened their four-piece set with one of their most well known songs, "Can't Control the Weather," an upbeat tune that reminds us all how we don't always have complete control over the events in our lives — snowy weather on the first day of Spring included. For those in the audience who were not familiar with the band's music, they performed a cover of Justin Bieber's "Love Yourself," getting all of the proud and guilty Bieber fans alike to sing along. The band completed their set with "Church," a song that lead singer Mason Van Valin describes as "swampy" and has a more country vibe than some of their other songs.
After a brief pause and resetting of the stage, Cardiknox, the second opening act, livened things up with their electronic-based pop that got the crowd moving. The band is comprised mainly of a male and female duo originally from Seattle, whose energy combined seamlessly to create a variety of catchy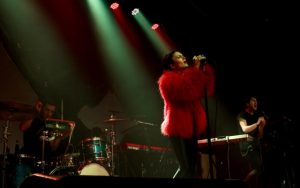 dance songs. With Thomas Dutton simultaneously strumming a guitar and playing an electric keyboard, and Lonnie Angle moving quickly and fluidly across the stage in a leotard and shiny leather spandex, there was much to see and hear. Songs like "Wild Child," "Bloodlust," and "Into the Night" brought a bit more attitude to the stage then that of the previous band's music , which was more calm and relaxing. Overall, the group was the perfect segue into the fun that was to come.
The crowd waited in anticipation until 9 p.m. when Carly Rae Jepsen, in all her petite glory, walked gracefully onto the stage with a huge grin on her face. Colorful lights flashed, electronic notes escaped the instruments onstage, and Jepsen started off the next hour and 15 minutes of pumped up jams with a popular crowd favorite, "Run Away with Me." Each song seemed to blend together, maintaining a high throughout the room for the entire night. Songs like "Boy Problems" had the entire audience, male and female alike, jumping up and down and waving their hands in the air. It was clear that no matter what song was being performed, mouths were sure to be flawlessly singing along. Though the majority of the set included songs from the singer that are both old and more recent, she did debut one new song, "Fever," an announcement that drew a great deal of cheers and applause from dedicated fans.
Despite her nonstop movement, with a little time to breathe in between songs, Jepsen never left the stage, aside from a small moment in which she donned a flashy white cape of sorts. Her passion and genuine happiness shined from the moment she got on stage to the time she left it, proving that she really seems to love what she does, and her fans certainly didn't let her forget that. The show would not have been complete without "Call Me Maybe," the song that took over radio stations and the brains of many a teenage girl alike back in 2012. Jepsen barely had to sing it herself, as everyone in the audience clearly had experience belting out the lyrics. The night ended with another one of her more recent, viral hits, namely "I Really Like You," a song that gained a significant amount of attention after starring Tom Hanks in its music video.
If the smiling faces of every person in the room weren't enough evidence of a great show, as people trickled out of the venue, they couldn't help but comment to one another about how much they loved every minute of it.
Feature Image: Ashley Dellefave Photo, Courtesy of Loyola University Maryland