Out with the old and in with the new — Zayn Malik released, "Pillowtalk," his first single as a solo artist and even more notably not as a member of One Direction. The release of this song marks a huge milestone in Malik's life and establishes his transition from boy-bander to R&B act. And, if you have yet to see it on social media, he now goes by "ZAYN."
The 23-year-old artist pulls inspiration for "Pillowtalk" from fellow R&B talents such as The Weeknd and Chris Brown. Malik has spent the last few months in California, where he has been working hard in the studio with the producer of Frank Ocean's album, "Channel Orange." Going straight to number one on the Billboard + Twitter Trending 140 chart, "Pillowtalk" offers a side to Malik that seems to have been hiding all this time. 
"I'm not censoring myself anymore," Malik said in an interview with Billboard Magazine.
In the corresponding music video for "Pillowtalk," which you can watch here, Malik stars alongside girlfriend and supermodel, Gigi Hadid. Together, the couple is seen holding each other while a variety of trippy, colorful visual effects distort the video. Some even claim the song is an ode to Hadid, who recently filled the missing piece of Malik's heart after the termination of his engagement with ex-fiancée, Perrie Edwards.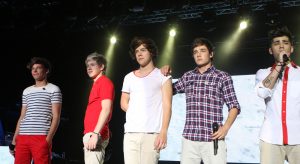 On Thursday, Jan. 28, Malik had his first solo interview with the iTunes radio station, Beats 1. During the interview, Malik spoke with Zane Lowe about his new music, and of course, the unavoidable awkward questions about his relationship with former One Direction band mates Harry, Niall, Liam and Louis.
"I always wanted to go, from the first year, really," he admitted to Lowe. "I never really wanted to be in the band. I just gave it a go because it was there at the time."
Malik's departure resulted in the most shared tweets of 2015. After his announcement, ex-band mate Harry Styles tweeted, "All the love as always. H," showing his thankfulness for the heartbroken fans. The short message received 714,000 retweets by the end of the year, making it the most shared tweet ever published on Twitter.
You can expect Malik's debut album, "Mind of Mine," to hit stores on March 25. Perhaps no coincidence, this is the one-year anniversary of heartbreak for One Direction fans, for it is the same date when Malik called it quits on his 1D days for good. Take this information as you will, and make sure you're prepared for "Z016."
Feature Image: Javierosh Photo, Courtesy of Flickr URL