Singer, songwriter, actor and YouTube sensation Troye Sivan seems to have it all. Born and raised in South Africa, Sivan made a name for himself starring as the main character in various "Spud" movies, before broadening his reach by starting a YouTube channel. His channel has now become a huge success with over three million subscribers. Sivan has now delved into one of his main passions, music, proving his talent with not one, but two powerful EP's, "TRXYE" and his latest one, "Wild".
Just this summer, Sivan came out with his second studio EP "Wild." The EP immediately flew to the top of the charts, leading to Sivan even getting a shout out from the queen herself, Taylor Swift, over how pleasant the sight of their music next to each other on the charts was.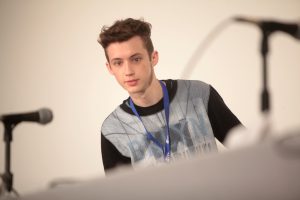 As always, with the release of new music follows the release of a slew of new music videos, which is exactly what Sivan has done. He has released two music videos so far for his songs "Wild" and "Fools," only he has taken them one step further. Rather than having each music video tell a fixed story, he has linked them together, forming a story line that leads up to the release of his next music video "Blue Neighborhood," which will complete the storyline.
This three-video arch details the romance of a gay couple and the adversities they face, focusing especially on the father of Sivan's love interest in the videos, who refuses to accept his son's sexuality. The story begins in "Wild," detailing the childhood friendship of the two boys, including the destructive nature of the love interest's father, and how their friendship eventually blossomed into love. "Fools" on the other hand, is the beginning of the downward spiral, showing how their relationship is torn apart when the father finds out his son is gay, going as far as to threaten him, scaring him into living a life he doesn't want. "Blue Neighborhood," set to be released in November, is the conclusion of this story, leaving many anxious and excited to see where the music goes from there.
One of the things that makes Sivan's music, and likewise his music videos, so powerful is the fact that he never shies away from who he is. Two years ago, Sivan told his fans about his sexuality with a video entitled "Coming Out," grossing over five million views. Since coming out, Sivan has been very open about his sexuality in both his music and videos, which is extremely refreshing. Sivan doesn't alter his videos to please anyone else. Rather he focuses on making the best content possible, and the truer the content, the better. Not only does he have a great message to spread, he also has fantastic music to follow it up.
As his fan base grows, expanding from continent to continent, Sivan continues to spread the message of love and acceptance, paving the way for more positivity in pop culture.
Feature Image: Gage Skidmore Photo, Courtesy of Flickr, URL