Every couple of years, a band comes along that is looking to go beyond simply changing the face of music; they want to change the world. From the greats like the Beatles, the Rolling Stones, Nirvana, and more, every generation is defined by certain bands, and therefore those bands' music. It seems that our generation turned out pretty lucky, for we have 5 Seconds of Summer, a band that is leading the pop genre.
5 Seconds of Summer, an Australian band formed of Luke Hemmings, Ashton Irwin, Calum Hood, and Michael Clifford, started out like many new bands today on YouTube. They soon became an Internet hit, opened for One Direction, and now are headlining their own tour. Their hit songs like "She Looks So Perfect," and "Amnesia," brought them to the forefront of American audiences, along with leading them into the forefront of pop culture. Recently their first single from their upcoming album, "She Kinda Hot," has become a sensation among fans everywhere. Leaving most young adults everywhere singing the words "We are the Kings and the Queens of the New Broken Scene" to themselves as they go on with their daily lives.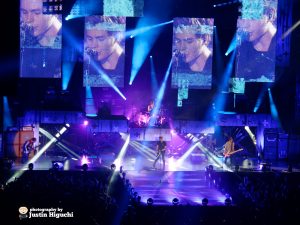 Some of you may be wondering, what exactly is the "New Broken Scene"? To be perfectly honest, I was a little confused about it myself. The New Broken Scene is the embodiment of the band itself. It's their message, their fan base, and the collective feeling they want everyone to get from their music. Spit balling ideas around, the phrase, "New Broken Scene," stuck out to the band. Needing a name for their fan base, one not as cliché as those thrown about now a days, they chose this on the account that it wasn't specific. Rather, if you love the band or if you just love music in general, anyone can be a part of this collective.
Jumping from this idea, the band has taken it upon themselves to promote this idea of unabridged inclusion. Promoting music, acceptance, and individuality as much as possible. Their sound in general, along with their message, hopes to encompass everyone and spread confidence to each and every one who listens. The New Broken Scene is acceptance, happiness, and an all-around good time. Misfits, punks, preps, and all of the above, this band wants you to know that it's perfectly okay to be exactly who you are. Our scene is broken, and that's just the way we like it.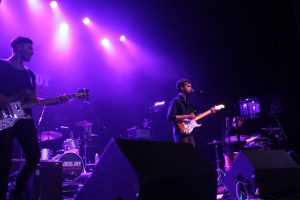 The band has also developed its idea of acceptance and confidence is through social media by trending the hashtag, #WereAlrightThough. This is another one of the commonly heard phrases from "She's Kinda Hot," in which they are looking to send the message that no matter how crazy things get or how many times people tell you that you'll never make it, you are going to be alright in the end. This is the way they are trying to get the message out about the New Broken Scene, and their new album, "Sounds Good Feels Good," which drops on October 23.
Another way they've promoted these two ventures and their album is through street art. Every so often the band Instagram and tweet out coordinates to where new street art has been done that promotes a different song off "She Kinda Hot." The countries that the street art has already been found so far include India, Ireland and Australia.
Soon enough, 5 Seconds of Summer's newest album will drop, meaning that the New Broken Scene will only get bigger. And as more people realize #WereAlrightThough, it can only get better.
Feature Image: Justin Higuchi Photo, Courtesy of Flickr, URL