Artscape, America's largest free arts festival, has taken place in Baltimore since 1982 and has since served as a marker of the city as a cultural hub. It is a beloved event within Baltimore City as well as across the Mid-Atlantic, with people traveling far and wide to experience it. This year the festival will be taking place September 22-24 after a 3-year hiatus, and is headlined by Anderson .Paak's DJ persona Pee.Wee. 
Baltimore City Northern District Planner and former Assistant Director of Loyola's York Road Initiative, Marie McSweeney Anderson '11, shared their excitement about Artscape and what to expect from the festival. 
"The main stage is down near MICA off of Mt. Royal that creates its own amphitheater. That's where the hot acts will be, that's where Anderson .Paak will be. There's also the DJ stages; one is usually on Charles Street and I think there's going to be one in Station North. It's just going to be fun to dance, make friends, and play games," McSweeney Anderson said.
This year, the Station North arts district will be a new space for the festival, in addition to the main Mt. Royal stage as well as Mosher and Charles Street stages. Station North will specifically host local Baltimore and Maryland based artists along North Avenue between Charles Street and Maryland Avenue, as well as Charles Street up to W. 20th Street. 
In addition to DJ Pee.Wee (Anderson .Paak), Nile Rodgers & CHIC and Dr. Madd Vibe featuring Angelo Moore will also be headlining. The Baltimore Symphony Orchestra will headline Sunday.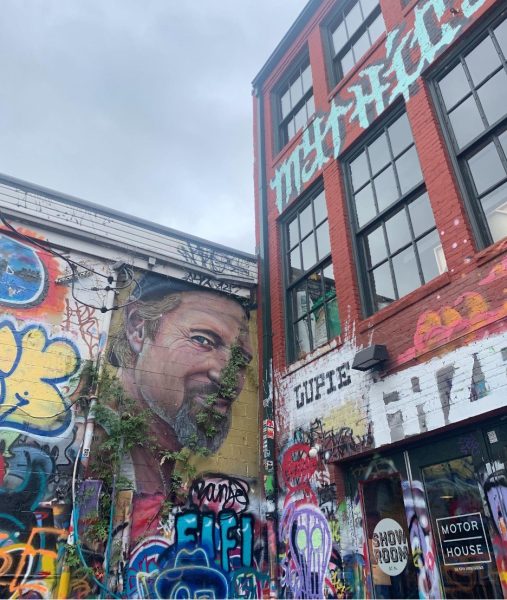 McSweeney Anderson pointed out the other aspects of Artscape besides live music. A large mural is being restored on Charles Street near the Charles Theater, and a new gallery on Maryland Avenue called Night Owl Gallery will be hosting an evening vintage market with a variety of vendors. In 2019, Artscape featured over 200 performers and over 100 visual artists and artisans. This year's festival is set to include art exhibitions, an artist marketplace, a film festival, music & beer garden, community gathering places, family and youth activities, and culinary delights. 
McSweeney Anderson recalled that during the pandemic, Baltimore had an initiative called Designing for Distance, which aimed to bring life back to public spaces in the midst of the pandemic. Artscape will feature similar spaces throughout the city equipped for outdoor dining and community gathering. 
Artscape is happening September 22-24 this year, as opposed to when it typically takes place in July. This timing offers a unique opportunity for students in Baltimore City to experience the festival during the school year. Messina is taking advantage of this by offering free shuttles from Newman Towers to Artscape for Loyola students on Saturday, September 23. McSweeney Anderson remarked that they think it would be 'silly' for a Loyola student not to go. 
"I think Artscape is one of the things I love most about Baltimore and reminds me why I love being a resident in Baltimore City–we have such a vibrant arts and culture scene. In your day to day life you can get lost in the thought of, 'Aw man, there's so much wrong with the city,' but Artscape is a reminder that we have such an amazing artist community that wouldn't be possible without the need for imagination in a city that has a lot of room to grow," McSweeney Anderson said.
To learn more about Artscape, visit their website by clicking here. To register for the shuttles to Artscape on The Bridge, click here.