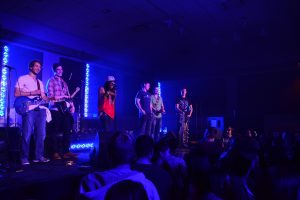 This year's WLOY-hosted Battle of the Bands came down to a solid 15 minutes of deliberation, with Cecilia Grace walking away as the victor. Four bands competed for the opening slot at Loyolapalooza, each tackling a different style of music, which made for a very diverse program. There were five judges in attendance; Taylor DeBoer, Kevin Gift, Xavier Cole, Janne Mosser and past Battle of the Bands winner, Maria Dontas, all of whom gave thoughtful and constructive criticism to each group that performed.
The first group of the night, GWB.com, is a seven piece band that performed as a nine-piece (or a nonet). They specialize in funk re-imaginings of rock, pop and hip-hop songs. With keyboards, two guitars, bass, drums, a horn section, a backing vocalist and Brandon Newby, their charismatic front man, each song was fleshed out with nuances and a fullness of sound that breathed new life into the covers. One cover in particular, the highlight of the set, was Kanye West's "New Slaves." As soon as the first murky synthesizer notes aired, I thought, Oh no, how are they going to pull off a cover like this? The song is so reliant on minimalism and Kanye's cutthroat delivery that I feared they wouldn't be able to do it justice. As it turns out, my worries were completely unfounded – they killed it. Newby's delivery was agile and full of confidence, and the band's skill in transforming even the Frank Ocean-featuring outro into something fun, an adjective not used when describing Yeezus, spoke to their strengths as a unit. That penchant for having a good time made their set infectious and made even their sole original track, "Farmers Only," feel like an inclusive party. Still, mirroring the judges' critique, I would have liked to have seen other members shine a bit more considering how large the group is.
Breakforce, the second band of the night, was a hard rock/metal trio out of Dundalk, Md. The lead singer/bass player had a cadence in his voice very similar to that of Eddie Vedder, which suited the music perfectly. Before the end of the set, he brought out his sister for a duet, which was emotionally tender. Throughout their set, I had a real sense of the camaraderie between each member – just watching the way they smiled on stage showed years of friendship and a mutual appreciation for rock music. However, as the judges pointed out, their set was often marred by technical difficulties beyond their control, and the guitar tones could have been more focused to bring out a crunch in their sound.
The third act was the winner of the night, Cecilia Grace, who took the stage and snapped a selfie in front of the crowd. It was this light-hearted, youthful approach to the singer songwriter trope that colored her set and that endeared the crowd to her and her sister Tessa. Winning prizes is nothing new to Grace – she previously won the Baltimore Idol talent competition, and her self-confidence showed in her impressively clear singing voice. Citing the Jonas Brothers and Aly and Aj as major influences, Grace's music has a pop songwriting sheen rarely found in up-and-comers. In fact, it wouldn't be too great a stretch of the imagination to find her one day within Disney's repertoire of young artists. What I found most incredible was the way Cecilia and her guitar-playing sister, Tessa, were able to harmonize so well (bear in mind, they're 19 and 15 years-old respectively). The only downfall of her set was the sameness throughout each song – they hovered around the mid-tempo range and each song tended to blend together, an issue that an up-tempo song could easily fix.
The final band of the night was Train Hoppin' with Grandma, a bluegrass duo made up of a guitarist and a banjo player. Their songs lean heavily toward traditional folk music, with a heavy focus on the guitarist's raw voice and their sparse instrumentation – think more along the lines of Greenwich Village, Inside Llewyn Davis-y songwriters that borrow heavily from Appalachian and Celtic music. Even then, they covered "Little Lion Man," adding their old-time rough-and-tumble folk approach to it, which was refreshing. The only suggestion that could be made would be to add extra voices to the mix – folk relies so heavily on harmony that without it, the songs can feel bare.
Even though only one group could walk away with the opening slot at Loyolapalooza, it was the sense of community and the general positivity shared between the performers and the crowd that made the night well worth it for all involved.