In honor of St. Patrick's Day, Loyola's Student Government Association (SGA) held their annual Luck O' Loyola event outside on the quad. The event was held March 14 from 11 a.m. to 2 p.m. It included sheep on the quad and a performance by the Loyola Irish Step Club.
Just before 11 a.m., the trucks filled with noisy sheep began to pull up. Members of SGA helped set up the gate of the pen that the sheep would be put in, which was big enough for several people to enter at once – and they certainly did. At the busiest points of the day, in between classes, the pen was packed with people trying to get pictures of themselves holding the sheep.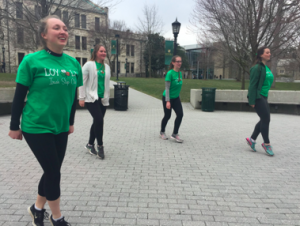 From 12:05 p.m. to 12:15 p.m., the Loyola Irish Step Club performed in front of Maryland Hall. People gathered to hear the classic Irish music and see the girls perform traditional Irish dance. In addition to being well choreographed and put together, the performers all danced with a smile.
The sheep drew in a big crowd as well. There were six animals ranging from small baby sheep to grown adults, and all were different colors and patterns.
"Being able to hold the sheep was a lot of fun! I was able to do it last year as well, and I knew that I definitely wanted to go this year. It's a great Loyola tradition to celebrate St. Patrick's Day," Mariana Whelan '20 said.
"Holding the sheep was so calming and relaxing, especially during the stressful time after spring break. I'll definitely be there again next year," Justin Nastri '20added.
Of course, Luck O' Loyola was an active trend on social media. People posted on social media, using "punny" captions to express their love for the animals. Ryan Lotocki '20 took to the Loyola University Class of 2020 Facebook group to post a joke about Boulder Garden Café serving the lamb for dinner the next day.
Luck O' Loyola was definitely a fun event that many Loyola students enjoyed. It was another great year of holding sheep and dancing the Irish Jig.