Major shakeups leave the East wide open
The Eastern Conference of the National Basketball Association is already full of drama, weeks before the start of the season. The first and most impactful change heading into the 2014-15 season is the return of LeBron James to the Cleveland Cavaliers. Leaving the Miami Heat with a loss to the San Antonio Spurs in the NBA Finals, LeBron returns to his home with a vengeance.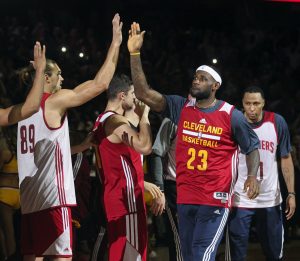 On the other hand, the Chicago Bulls have a return of their own this season: Derrick Rose. Coming off a season-ending knee injury, Rose hopes to lead the Bulls atop the Eastern Conference. Overall, the futures of Cleveland and Chicago look to be bright ones, but this is not the case for the Indiana Pacers. Paul George suffered a season-ending compound fracture in his leg during a FIBA exhibition this past summer. The rest of the East is quite balanced out, besides several teams I believe have what it takes to have a winning season.
1 seed: Cleveland Cavaliers- LeBron's return will give Cleveland exactly what it needs: a leader. Offensively, defensively, on the court and off the court, LeBron impacts every minute of every game he is a part of. At the point guard position, Kyrie Irving is a powerful penetrator who can finish at the rim no matter whom he goes up against. On the block, newly-acquired Kevin Love is another offensive machine. He can knock down an open three-pointer and post up the most dominant centers in the NBA. Veterans such as Dion Waiters and Anderson Varejao also bring a spark on the defensive side of the ball. Overall, Cleveland will not be stopped once they get their team chemistry down.
2 seed: Chicago Bulls- With the return of Rose and additions such as Pau Gasol and rookie Doug McDermott, the Bulls will be a leader in the East this season. In the backcourt, they have former MVP candidate Joakim Noah, who proves to be a tough rebounder. Chicago has the potential to win the championship this year.
3 seed: Washington Wizards- This is a team full of veterans and good talent, regardless of age. With star John Wall from the University of Kentucky leading the way, the Wizards have a supporting cast full of experienced and versatile players. Paul Pierce just recently made his way to D.C. from Brooklyn in an offseason trade. Andre Miller is exactly what Washington needs, in that he is a veteran who has played many seasons with several different teams. Nenê, Marcin Gortat, and Bradley Beal bring a spark to the team's defensive schemes.
4 seed: Toronto Raptors- The Raptors lost an incredibly even series to Brooklyn last year in the playoffs. This up-and-coming team will certainly be a top-four team in the East. Kyle Lowry, DeMar DeRozan and Terrence Ross could make up one of the most dynamic frontcourts in the NBA.
5 seed: Miami Heat- They may not have LeBron James anymore, but do not count them out to make a playoff run this season. This team is led by former NBA champions as well as some new key pickups. Dwayne Wade is a seasoned veteran with three NBA championships under his belt. If he can stay healthy, Wade will be a sure threat off the dribble. The highest-paid player for the Heat in this upcoming season is Chris Bosh. Rookie point guard Shabazz Napier will be a dominant sixth man behind Mario Chalmers, another former March Madness hero. Napier's two national championships at the University of Connecticut conditioned him to be a champion in years to come. Napier is the most underrated rookie heading into the season.
6 seed: New York Knicks- With new President of Basketball Operations Phil Jackson as the figurehead of New York, the team has the potential to make a playoff run. Let's not forget Jackson knows exactly how to bring a team to a championship. He has 13 rings: two as a player and 11 as a head coach for the Chicago Bulls and Los Angeles Lakers, mentoring Michael Jordan and Kobe Bryant. The Knicks have a very talented starting five, but with absolutely no bench. Carmelo Anthony will no doubt be an MVP candidate this season with his high point totals per game. J.R. Smith and Amar'e Stoudemire are big-time players that can perform on both sides of the ball.
7 seed: Detroit Pistons- Though they are not the "Bad Boys" of the late 1980's and early 1990's, they still have some highly underrated talent. Andre Drummond played some big minutes in the FIBA this past summer and All-Star Josh Smith scores at will. Brandon Jennings is threatening from three-point range and Greg Monroe at the block is a rebounding machine. They have a slim chance of making the playoffs, but have potential that is untapped.
8 seed: Charlotte Hornets- After changing its team name from the Bobcats to the Hornets, this squad is young and vicious in the frontcourt and has a tough All-Star center in Al Jefferson. Kemba Walker and former Indiana Pacer Lance Stephenson are going to be a dynamic duo. Stephenson may be the most competitive player in the NBA, as he showed in the Eastern Conference Championship against the Miami Heat two years in a row. He will not back down to anybody, even if your name is LeBron James. Cody Zeller, P.J. Hairston and Noah Vonleh are young, athletic players with the ability to win games in Charlotte. Watch out for the Charlotte Hornets in the upcoming season.
Leave a Comment
Your donation will support the student journalists of Loyola University Maryland. Your contribution will allow us to purchase equipment and cover our annual website hosting costs.