Sixty-four games down, three to go. March is over, but there could still be some madness in the final three games of the 2014 NCAA Division I Men's Basketball Tournament, with the Final Four on Saturday and the National Championship Game Monday night.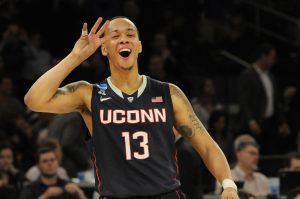 The Florida Gators (36-2), UConn Huskies (30-8), Wisconsin Badgers (30-7) and Kentucky Wildcats (28-10) are the four lucky finalists this year, and one of them will replace the Louisville Cardinals as NCAA Tournament Champions this week.
Aside from the top-ranked Gators, who have won 30 straight games, including four double-digit wins in the tournament, each of the remaining teams received some scares in the tournament before reaching this point.
Seventh-seeded UConn nearly fell to 10th-seeded St. Joseph's in the opening round of the tournament, which would have capped off a somewhat disappointing season for the Huskies. However, down three with under a minute left, UConn fought back to tie the game and send it into overtime, where they won, 89-81. The Huskies' wins over Villanova and Iowa State were slightly easier, before they pulled off the upset of fourth-seeded Michigan State in the Elite Eight.
Second-seeded Wisconsin endured a couple of close calls in this year's Big Dance. The Badgers found themselves down by 12 at halftime against seventh-seeded Oregon in the round of 32, before rallying in the second half to avoid the upset. After dominating Baylor in the Sweet 16, the Badgers won a classic overtime Elite Eight matchup, 64-63, against No. 1-seeded Arizona to get to the Final Four.
And what can be said about the eighth-seeded Kentucky Wildcats? The No. 1 team in the nation to start the season is now two wins away from being the No. 1 team in the nation to end the season, after dropping 10 games in between. After falling out of the Associated Press Top 25 rankings heading into the tournament, Kentucky reeled off four single-digit victories to reach the Final Four. The Wildcats trailed almost the entire time against both Wichita State and Louisville, but they found a way to win both games. Their Elite Eight win against Michigan, highlighted by Aaron Harrison's winning three-pointer with 2.3 seconds left, gave Kentucky its 10th-straight tournament victory dating back to the Wildcats' 2012 National Championship run.
Here's a look at both of Saturday's games (written prior to the Final Four)…
(1) Florida vs. (7) UConn- Saturday, April 5- The earlier game on Saturday features a favored Florida squad against a UConn team very reminiscent of the 2011 team that won the championship as a four-seed behind the magic of Kemba Walker. UConn senior guard Shabazz Napier, the team-leader in points, rebounds and assists, was a freshman on that National Championship team, and has put the team on his back the same way Kemba did back in 2011. Second-year head coach Kevin Ollie has done an admirable job to this point, and a trip to the National Championship Game as a seven-seed would be a memorable run for the 41-year-old coach.
The Florida Gators, however, will bring a 36-2 record and a deep and experienced roster to their matchup against the Huskies. Billy Donovan's squad is led by a trio of talented seniors: Scottie Wilbekin, Casey Prather and Patric Young. Sophomores Michael Frazier II and Dorian Finney-Smith have also played key roles in Florida's Final Four run.
Prediction: Florida 71, UConn 67- The Gators haven't lost a game since December 2. That loss came against these UConn Huskies, after Napier hit a buzzer-beating jumper to hand Florida its second loss of the season. 30 wins later, Florida will look to avoid another loss at the hands of the Huskies. Seeing Napier hit another buzzer-beater to send his team to the National Championship wouldn't be the least bit surprising, but the Gators will find a way to limit the talented senior, in hopes of ending UConn's memorable run.
(2) Wisconsin vs. (8) Kentucky- Saturday, April 5- Saturday's nightcap is sure to be a thrilling matchup between two teams coming off nail-biting finishes in the Elite Eight. Wisconsin escaped Arizona in overtime behind the dazzling efforts of 7-foot junior Frank Kaminsky, who finished with 28 points and 11 rebounds, including three baskets rom beyond the arc. Kaminksy is an excellent three-point shooter for a player his size, and as a team, the Badgers shoot 37.5 percent from three-point range. Kentucky will have its hands full defending Wisconsin's three-point attack.
Kentucky might have the most talented roster of the four remaining teams, even though most of its players are freshmen. Julius Randle, twins Aaron and Andrew Harrison, James Young, Willie Cauley-Stein and Dakari Johnson are all expected to be first-round NBA draft picks either this year or next year. Randle is going to be a top-five lottery pick in this year's draft. Although Cauley-Stein missed Kentucky's win over Michigan and is doubtful for the Wisconsin game, head coach John Calipari has plenty of other weapons to throw at the Badgers on Saturday. Having a team full of future NBA players does not necessarily mean Kentucky will run the table, though, as the Wildcats dropped 10 games throughout the season. Four of those losses came against non-tournament teams, including a head-scratching loss against a 14-20 South Carolina team. Kentucky has rebounded, though, and its young group of superstars has finally come together.
Prediction: Kentucky 75, Wisconsin 73- Kaminsky and Co. live and die by the three, and even if they are able to drain a few more on Saturday, they will be no match for Kentucky's superstars, especially Randle. Expect a close game, however, as Kentucky has stumbled out of the gate the past couple games before finding ways to win. In the end, Badger head coach Bo Ryan will fall short in his first trip to the Final Four.
2014 National Championship Game- Monday, April 7 (Florida vs. Kentucky)- Round four. The Gators beat their SEC rivals three times this season, and will need to beat them a fourth time to win the title. Florida won the first two matchups with ease, but only beat Kentucky by one point in the SEC Championship Game a few weeks ago. It will be a classic re-match, but Florida's seniors will end Kentucky's tournament win streak, and give Coach Donovan his third National Championship.
Florida 72, Kentucky 69