The following represents the opinion of the student reporter and does not represent the views of Loyola University Maryland, the Greyhound, or Loyola University's Department of Communication.
On Tuesday, Oct. 3 at 9:25 p.m., five people were shot on Morgan State's campus, just two miles away from Loyola. News sites began reporting on the situation around 10 p.m. and Loyola students began to panic at the thought of an active shooter so close to campus. Despite these valid concerns, Loyola failed to calm the fears of students or inform them of the situation until 11:52 p.m.—two hours and twenty-seven minutes after the situation began. 
In this almost two and a half hour gap between the shooting and Loyola's response, students and parents were kept in the dark. Loyola's silence was deafening, and the gap that should've been filled by a reassuring message was instead replaced by panic. Campion Tower had its nightly fire alarm around the same time that police began responding to the shooting, and we had to gather the minimal information available to decide for ourselves whether or not we were safe. Reports of people running across campus and posts on social media platforms such as Fizz relayed the students' frustration and fear.  
Many people were unsure of what to do, and anxiety of being a part of the news stories that we have all had the misfortune of growing up with became prevalent. Molly Gerard '26 explains how that anxiety set in upon finding out.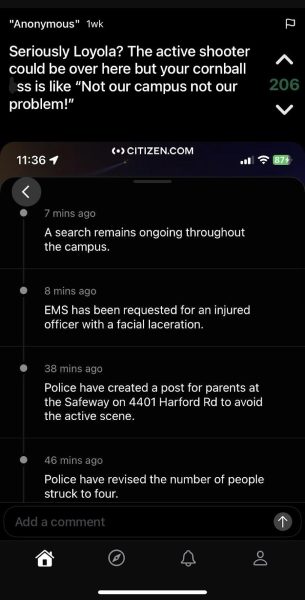 "I didn't really know what to do. I was alone in Humanities doing homework in the English department, so it was a creepy environment already with the cardboard cutout of people. I didn't panic, but I felt my heart drop and I kept wondering if there was something I should be doing–if I should duck into one of the classrooms instead of being in kind of an open area," she said.
Students had to make quick decisions based on their own intuition and stories of mass shootings across the country. Ilah Krowicki '27 explained that upon hearing the news she felt her heart drop and the situation's proximity to Loyola made her feel unsettled.
"My first reaction was to go back into my dorm and to just stay in there. My roommate and I ended up staying up late into the night. There were no other reactions from people on my floor. However I was trying to help my friend, the one that informed me, calm down as she got bad anxiety from hearing the news," she said.
Madison Tiña '26 echoed that fear when she found out about the shooting after arriving home from her shift in Campion.
"At around 11:15 p.m., my roommates and I were sitting around the living room when one of my roommate's moms called her and told her that there was a shooting at Morgan State University and the shooter was still on the loose. At that moment, my heart dropped. I was imagining all the worst things that could have happened to me if I hadn't taken the shuttle home," Tiña said. 
Some desk assistants became aware of the situation while they were at work. One of those assistants was Grace Millis '25, who was told by her supervisor to contact Public Safety and inform them she was leaving. 
"When I did that, the dispatcher immediately cut me off and said 'We're already aware of this issue, that's on the other side of Cold Spring so there's no immediate threat to Loyola.' That's where the conversation ended," Millis said. 
This apathetic and uncaring response from the dispatcher was not unexpected by Millis. She explained that many people had already had negative experiences with Public Safety, but this lack of communication extended beyond the desk assistants. Loyola also left their Resident Assistants in the dark, putting them in a position where they have panicked residents asking them what to do with zero instruction from Loyola. Many RA's like Ashiya Tripline '26 used their best judgment and told her residents to stay away from the area, but any misstep could have landed them in a tough spot with their bosses.
"My Area Coordinator sent us a message saying  'If y'all are communicating to residents, don't tell them to shelter in place, that is not the guidance the university has given. We have gotten reports that RA's are telling residents that we are in lockdown or shelter in place, but that is not accurate and I don't want anyone to get in trouble for giving incorrect information. Tell them to use their best judgment and anything official will come from the university.' Then she was like 'can you send screenshots of messages you sent to your residents last night?' They made us have a mandatory meeting about it," Tripline said.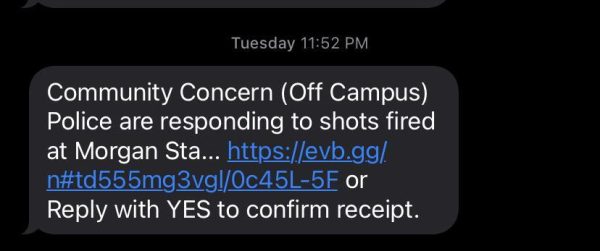 After what felt like an eternity for many, Loyola finally notified students what had happened at 11:52 p.m.  It came as Emily Pickul '26 shared the same sentiment.
"I feel like Loyola's response was incredibly late. We should have been informed immediately and been told to stay inside. I shouldn't have had to learn about the incident from my mom calling to see if I was ok," Pickul said.
To better understand what went wrong with everything with Public Safety's response that night, I reached out to Director of Public Safety Adrian Black with questions that I had gathered on campus. The first thing I inquired about was the time Loyola became aware of the situation and the reasoning for the delayed response. 
"We became aware of the situation as the Baltimore City Police Department was initially responding. As we look back on the events of that night, we know there are ways we can improve communication and message our community more quickly if an external event is affecting our internal community. We are conducting a full after-action review to identify steps for improvement," he said. 
Admitting their mistakes is a great first step, and it is promising that Public Safety is recognizing that the failures that night were unacceptable. While admitting these mistakes, there was zero explanation as to why, if they knew this situation was happening and causing a panic on campus, the multiple calls to dispatchers hadn't clued them in and prompted them to inform us about it. There is no satisfying answer for this, which is extremely disappointing. When I asked about the actions of the dispatcher who had brushed off students like Grace, and if they thought those actions were acceptable while students were fearful, Black's answer was again not completely satisfying. 
"We strive to provide the best possible service to all members of our community. This situation was incredibly distressing to students—and certainly to families who were following this situation in the news. We understand that the time between when the incident occurred at Morgan State and the notification to our students caused considerable stress to several of our students and parents, and for that we are deeply sorry," Black said.
While an apology does go a long way and was absolutely necessary in this situation, this probably should have been sent in an email to parents, apologizing directly to them. The dispatcher's response was not addressed. Many people, myself included, were left with a pressing question: If Loyola was incapable of doing something so conceivably simple for a situation just two miles away, how prepared would they be to handle a situation on campus?
"Loyola has a crisis communication plan in place that we review and update regularly to make sure we are following best practices and prepared to respond to emergencies affecting our community. In the event there is an imminent or ongoing threat to the Loyola campus, we are prepared to send Greyhound Alerts to the community," Black said.
He also noted that the emergency team undergoes regular training to best handle these situations, which is reassuring. At the same time, the entire situation has been distressing for many, and Loyola's actions at the time did not aid students. For some, it even heightened anxieties about their safety. The notification needed to be sent as soon as Loyola knew–at the latest, by the time the news stations began reporting on it–because the shooter was reportedly still on the loose. Without reassurance from Loyola, students could not be sure they were safe. While they are promising improvement and admitting fault, these are just words. There needs to be substantive results of these "reviews" to affirm public safety's role in keeping the student body safe.